From Ross Cado, FFE Owner and Driver
This past Sunday served as confirmation of my strong will power and determination as a driver to succeed in this league. From the first green flag to the conclusion of the green-white-checkered finish, the nerves never quite went away. The pressure to perform well was on following my abysmal showing at Daytona–pressure both in the realm of raw speed and driver talent, as well as with pit strategy. New Hampshire serves as a facility where tire management and fuel mileage can mean the difference between feast or famine. I placed my #12 truck on the grid craving that New Hampshire lobster feast.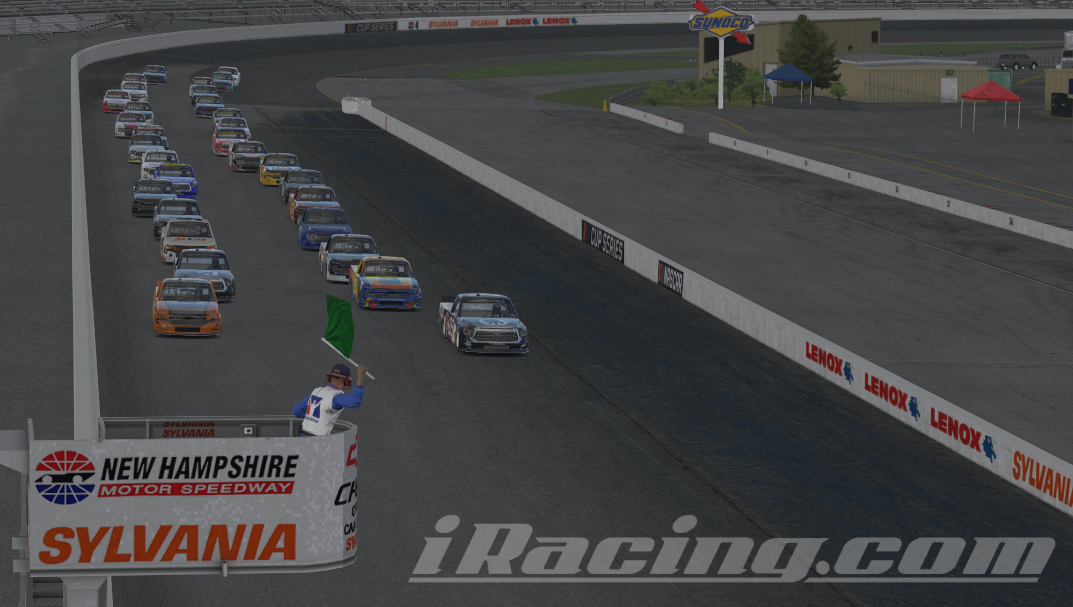 After hundreds of laps of practice throughout the week, and several more in the practice session before the race, I was certain that I shaped up to be a contender in this race. Never a swell qualifier, I found myself 20th on the grid. The first caution came early on lap 7. I deemed it prudent to stop for two right side tires and then decided to come back down pit road for the subsequent pace laps to top off my fuel tank, in anticipation for attempting a one-stop green flag pit strategy in case the race went green to the end.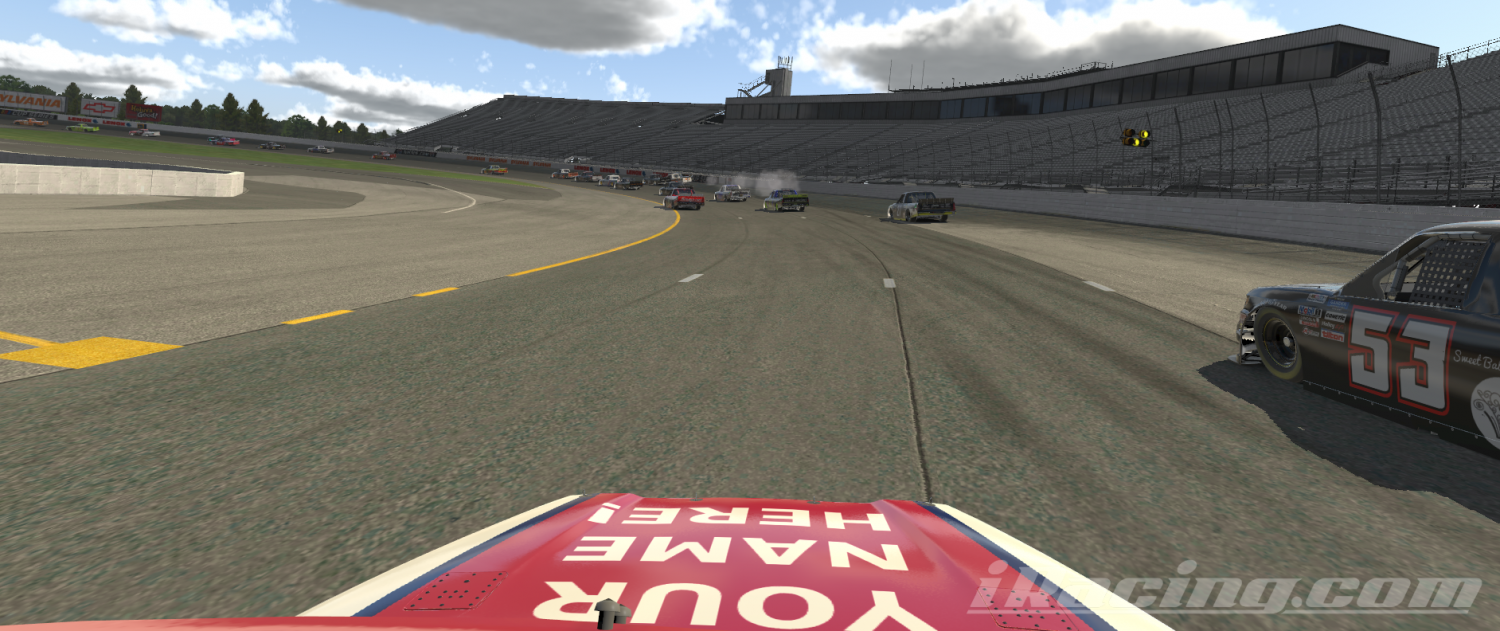 However, just as I was exiting pit road when the field got the "one to go" warning, my internet connection experienced some sort of glitch. I was momentarily kicked out of TeamSpeak, and my quality bar in the iRacing simulator was bright red. Fortunately, my TeamSpeak connection was restored and I was not kicked from the simulator. However, on lap 12 iRacing assessed an unsafe pit exit penalty to me because the simulator had some erroneous indication that I had merged onto the racing surface too soon. I was forced to serve a 26-second stop-and-go penalty under green flag conditions, which I came in to fulfill on lap 15.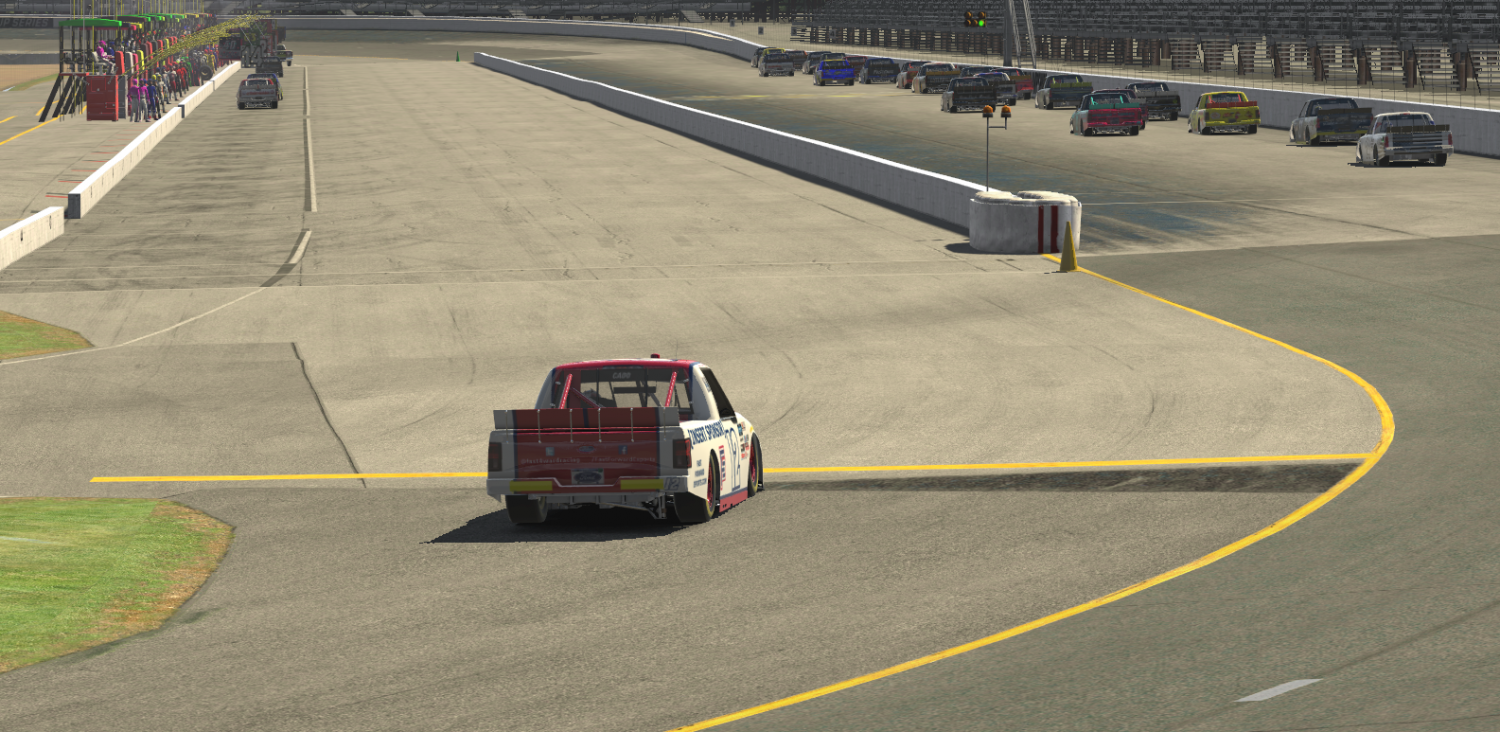 It was sheer agony as the field sailed by while I was stationary on pit road. Once the time has elapsed, I was away once more, albeit one lap down. My speed was even with the leaders' as I ran just five and a half seconds ahead of them in 27th place. This continued for a few more circuits until another yellow flag saved me on lap 25. The #9 truck of Adam Matz was the fortunate recipient of the free pass for that caution flag. It would take two more yellow flags before I earned the free pass on lap 37. I was suddenly back in business. A long green flag run of around fifty laps followed.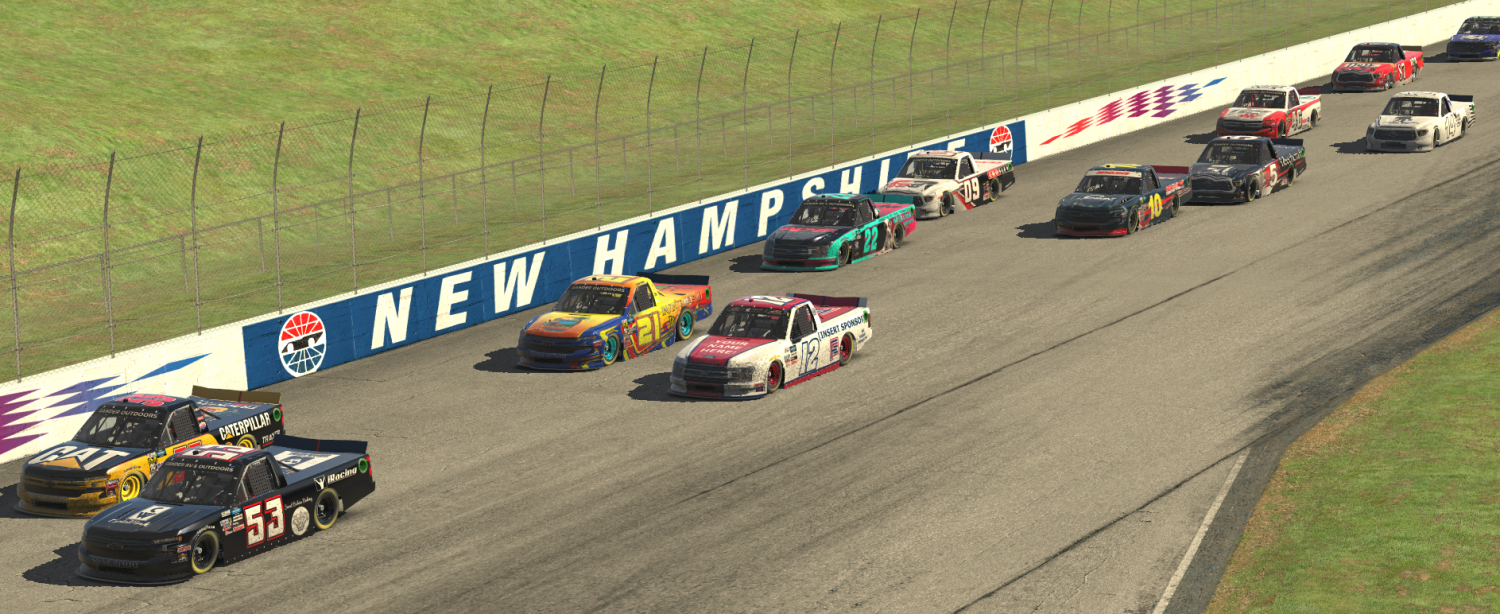 Green flag pit cycles went well for me, following a measured yet aggressive charge from 25th place to 16th place before I had to bring the #12 truck in for tires and fuel. The caution again came out as I ran in 15th place. Several more trucks pitted and then I found myself in the top-10. I restarted 9th on lap 94. There was not much variance in my running position for the remainder of the race. There were several late-race yellow flags, to include a green-white-checkered finish. I would like to think that had we finished those final thirty or so laps under green, that I would have had the prowess to gain a few more positions and maybe even muscled my way into the top-5.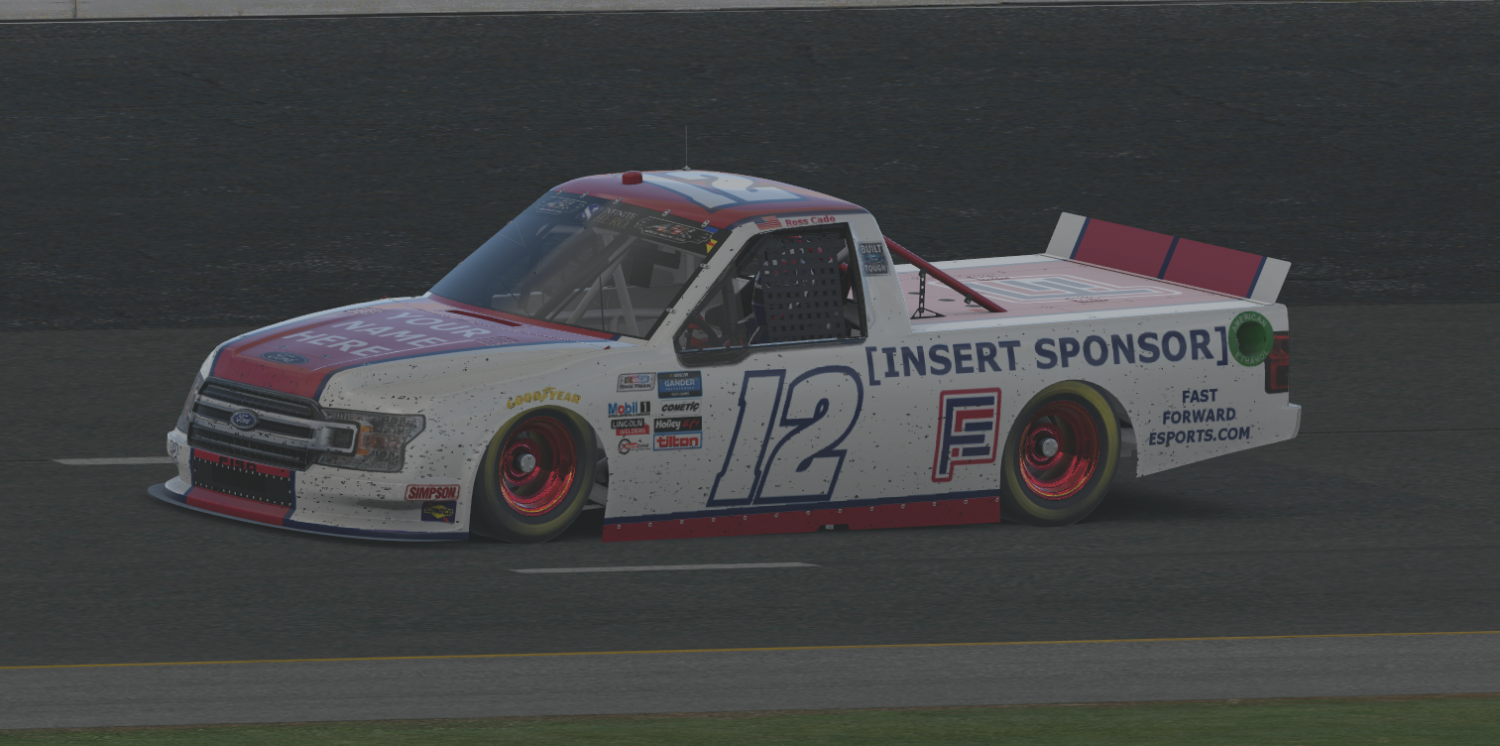 Alas, the four subsequent cautions meant four more restarts, and I just could not make effective enough gains to make the statement that I would have preferred to have conveyed. I had been racing alongside the #53 of Bryson Tomlinson and the #21 of Todd Cray for much of this race, and the final laps were no exception. In the end, Tomlinson was able to secure 9th place, and Cray edged me out for 10th place after a hard-fought side-by-side battle to the checkered flag.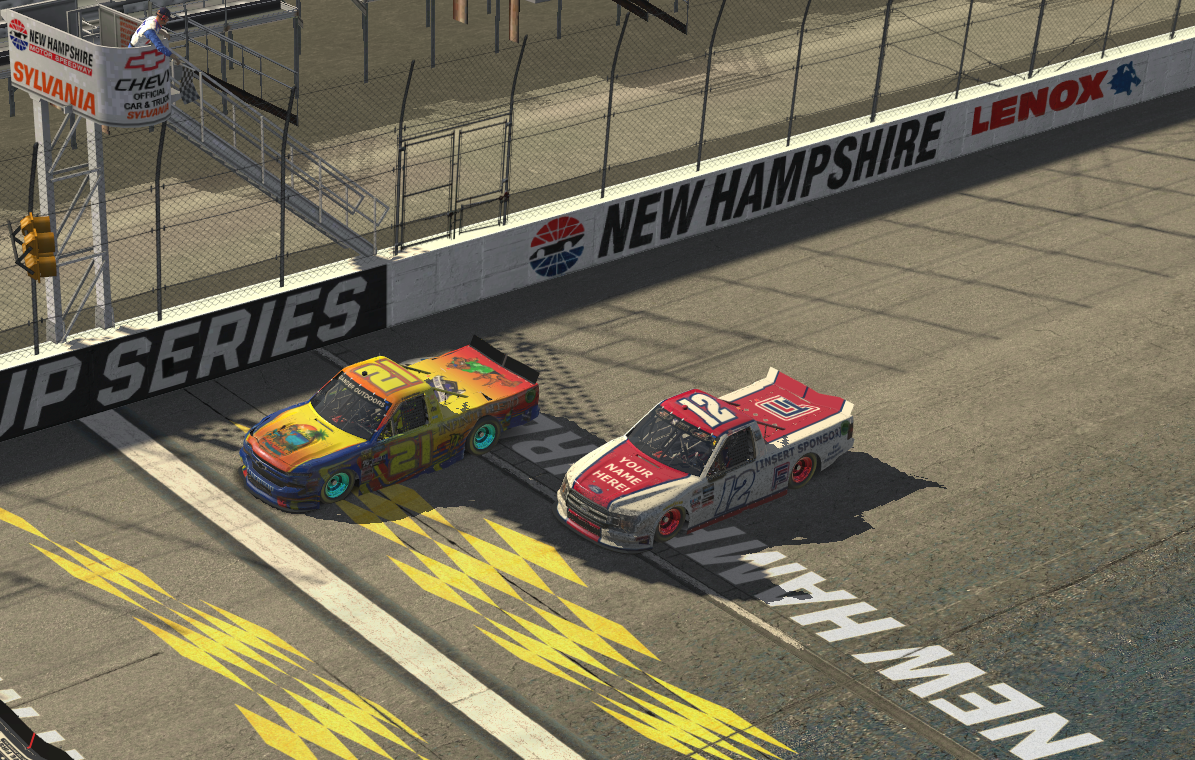 Once again, I was impressed by the prudence and coordination that many of the members of American Simracing League showed. The competition in this league is tough as it is, and coupling that with technical issues makes for a substantial feat to overcome. I am grateful for the rebound that I was able to secure, considering the woeful circumstances. I hope to nab a top-10 next Sunday evening at Michigan…and to finally lead a lap!
Ross Cado #12 Race Stats
Started: 20th
Finished 11th
Laps Led: 0
Fastest Lap Time: 31.086 (Lap 78)
Incidents: 4