Andrew Faryniarz paper-clipped a Martinsville win to his two other wins on Tuesday, winning the second-to-last race of the Summer 2019 Season of the Bolt Action Truck Series.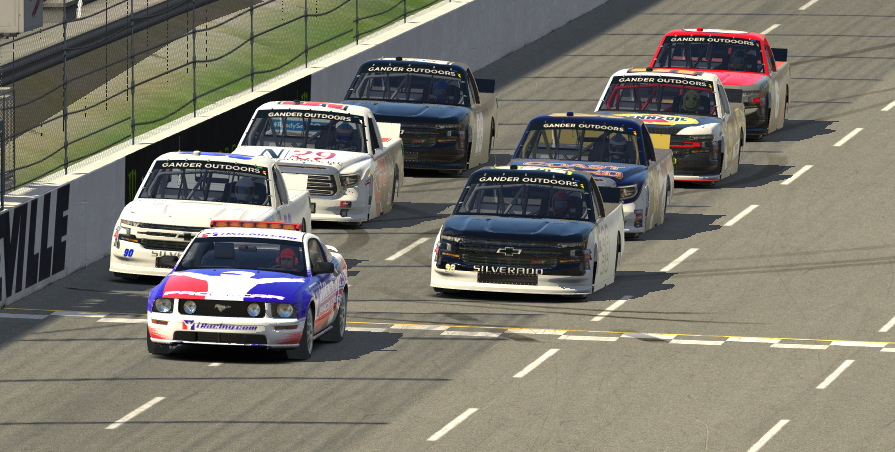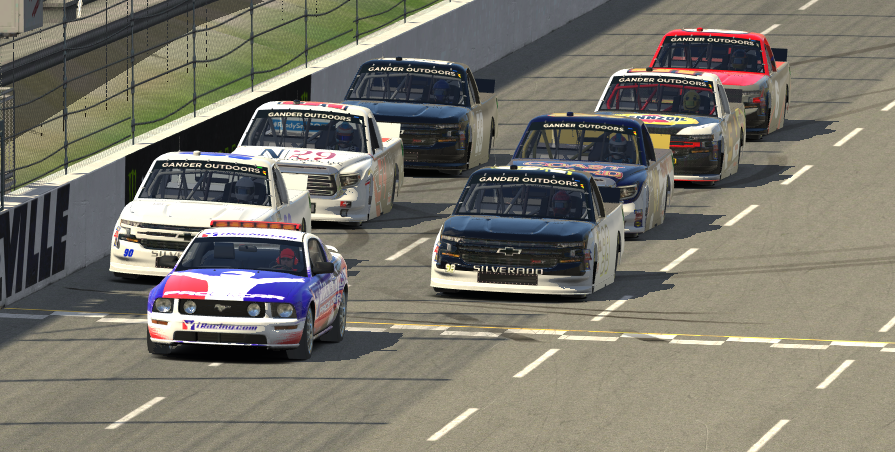 The evening at the renowned Virginia short track began with David Washington grabbing the pole position with a qualifying time of 19.171 seconds–just 0.008 seconds faster than Daniel Eberhardt. However, Hurricane Dorian quickly had his say, and the story morphed into something to the effect of "Florida man kicked from iRacing server due to inclement weather." As a result, the 97 truck of Jeff Hollingsworth assumed the inside starting position just before the drop of the green flag, with Daniel Eberhardt's 90 truck maintaining the outside line.






The opening laps had a stable side-by-side battle for the lead between Hollingsworth and Eberhardt. These drivers showed admirable poise and professionalism while battling to establish themselves as the leader. The side-by-side battle continued throughout the first nine laps until Steve Durham wrecked right in front of the leaders, collecting Eberhardt and ending his race.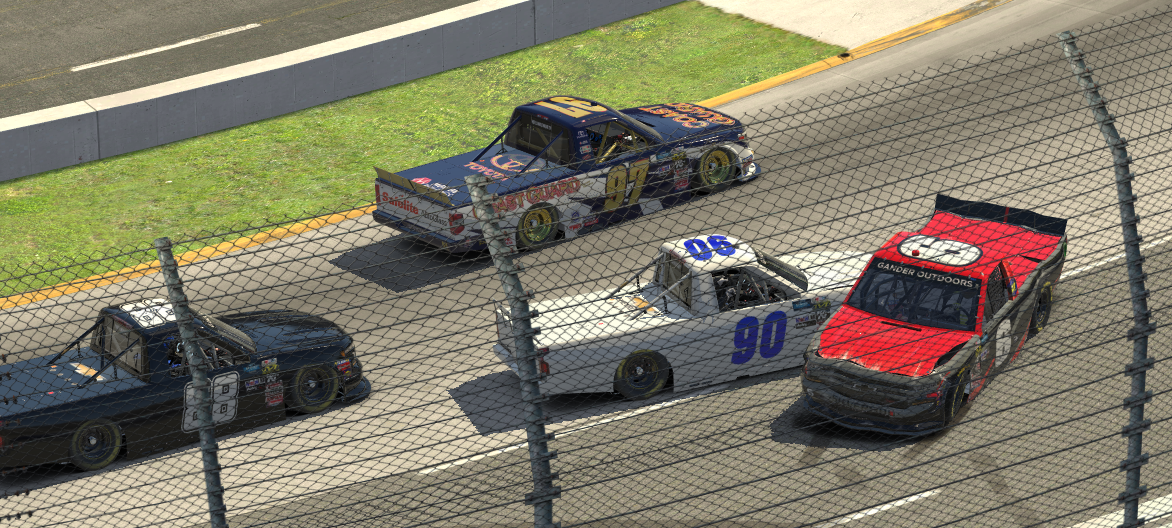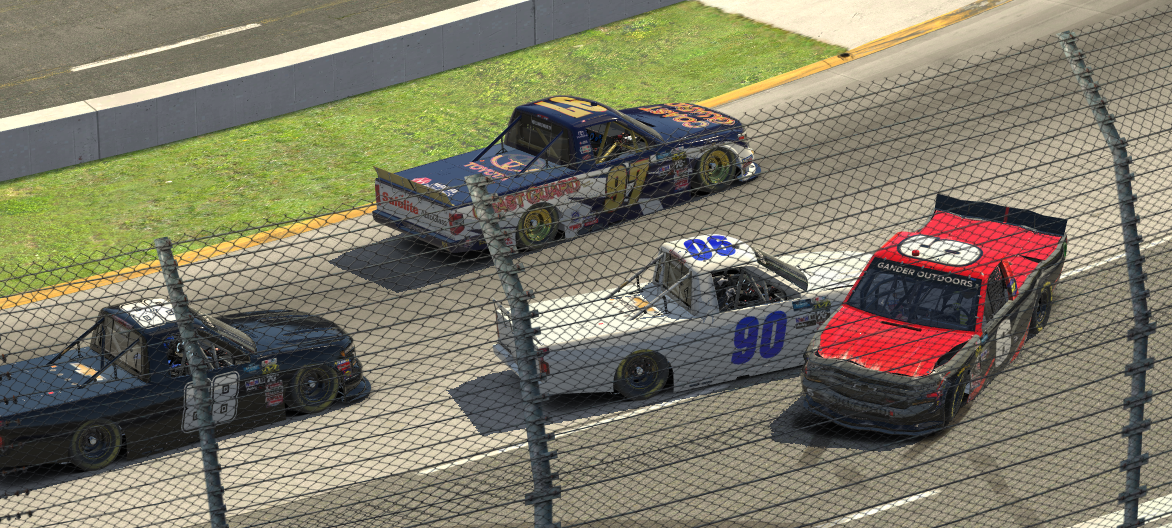 The field restarted on lap 15 with Hollingsworth leading, with Andrew Faryniarz (88), Logan McGlothlin (5), Brycen Fitzgerald (54), and David Washington (98) to round out the top 5 running order. Washington had fortunately reconnected following his previous dropped connection.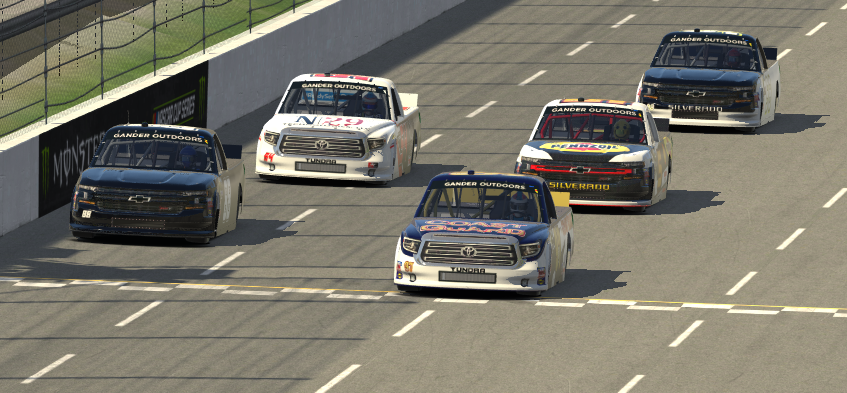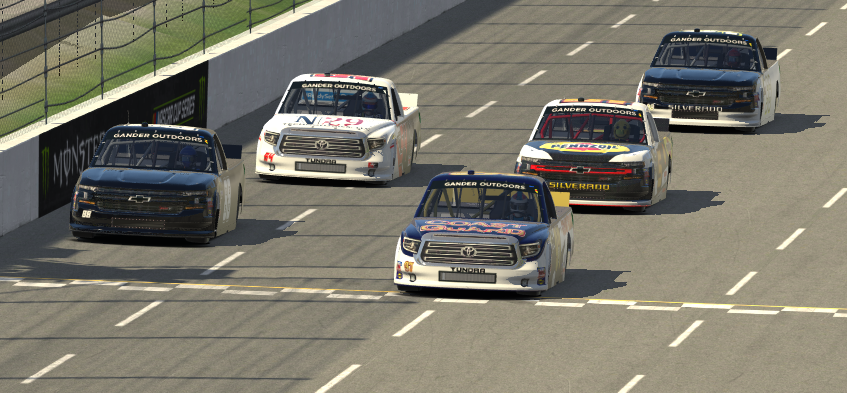 Washington's recovery was short-lived, as on lap 21 he made contact with Faryniarz and caused him to spin. Washington exited the session shortly thereafter with the storm bearing down.


Hollingsworth led the rest of the competition to the subsequent restart on lap 27 with Faryniarz on his door. One lap later, Hollingsworth logged the fasted lap of the race with a 19.470-second circuit.
On lap 41, Brycen Fitzgerald made an impressive save while racing Logan McGlothlin for third place. There was a misjudgment between the two drivers on corner entry with regard to braking points and how each driver chose to attack the corner. Fitzgerald had the steering wheel turned all the way to the right as his 54 truck slid through the turn. He quickly recovered and was able to get by McGlothlin for third place before the checkered flag.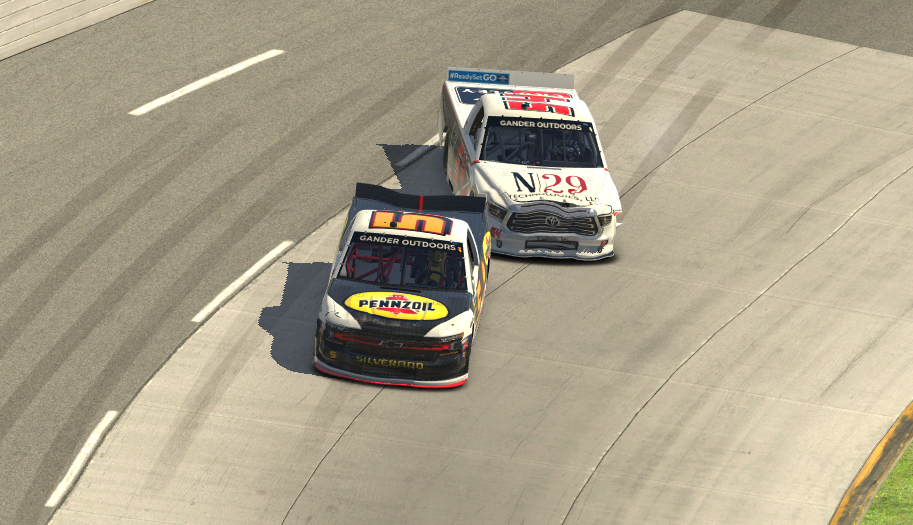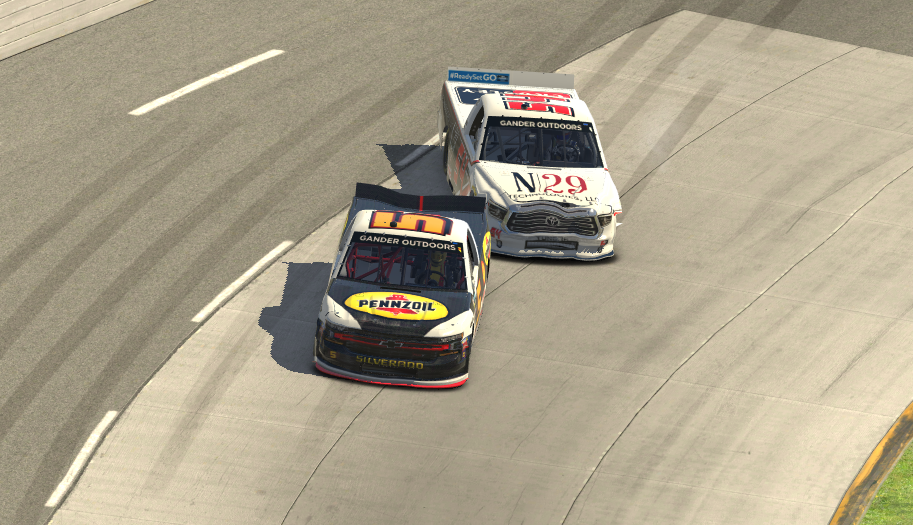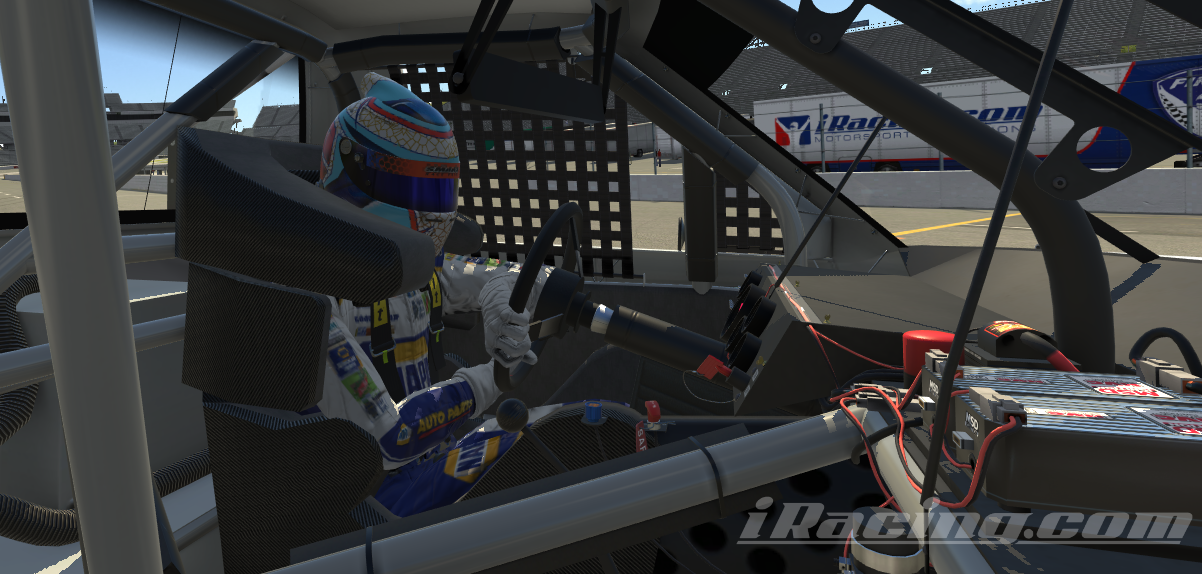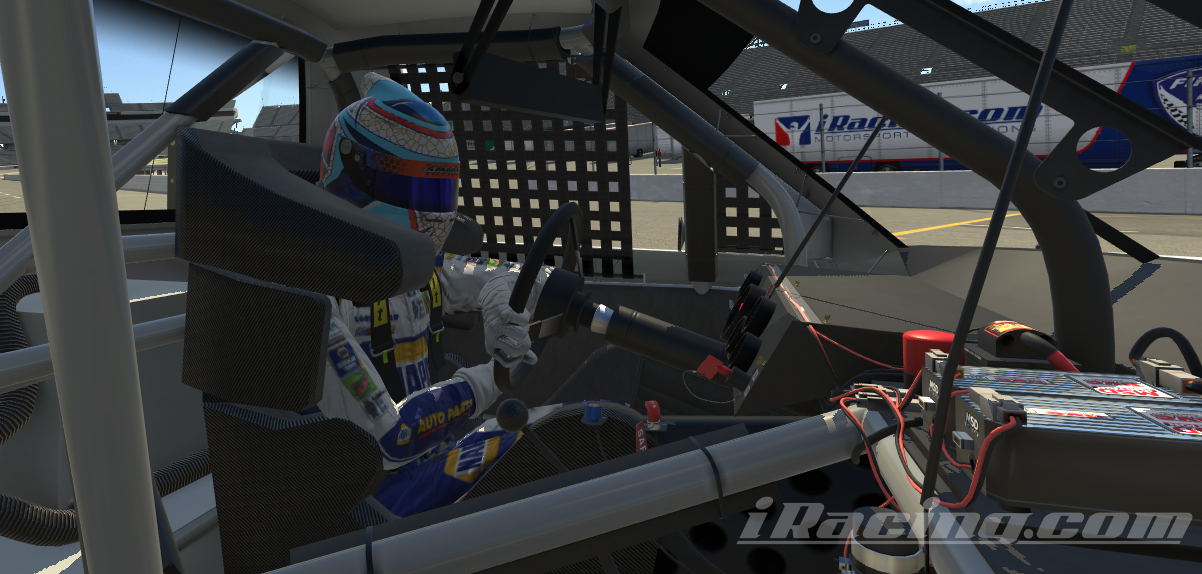 Faryniarz caught Hollingsworth by lap 57 and the two had a side-by-side battle for the lead until lap 61. Once Faryniarz got around Hollingsworth, he remained there until the checkered flag. All told, Faryniarz led the most laps (72), including the bonus point-paying halfway lap.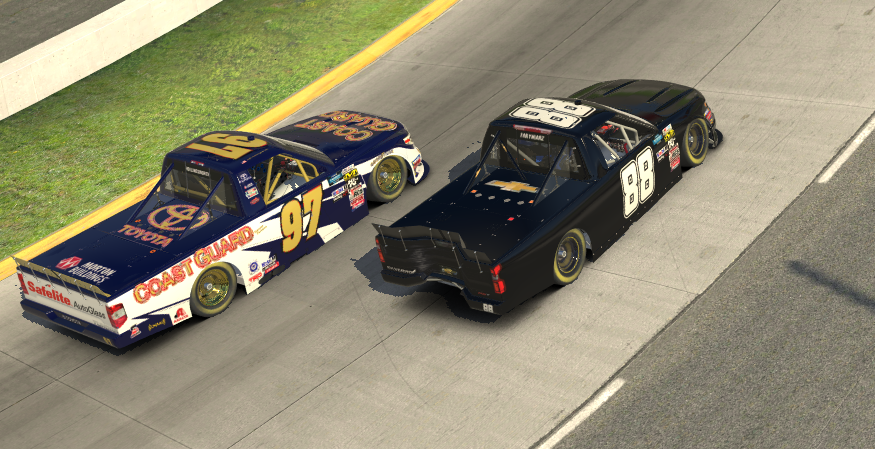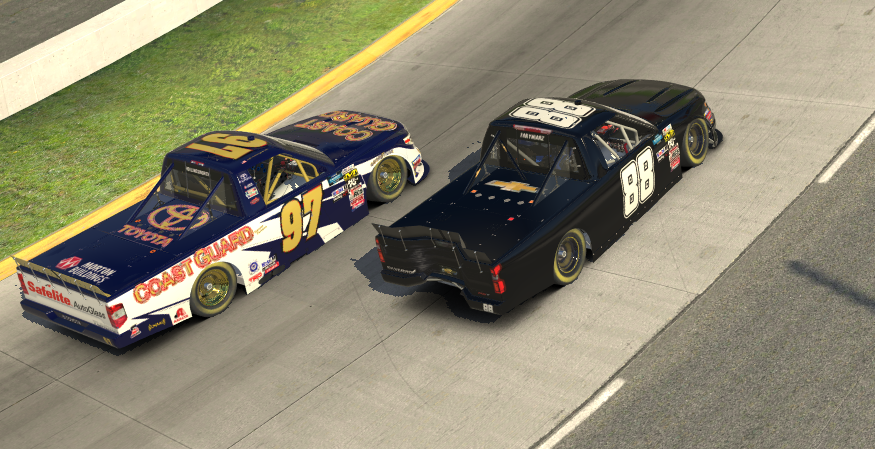 Now, going into the final race of the season next week at Homestead, Jeff Hollingsworth is the points standings leader, with 21 points over Brycen Fitzgerald. Along with third place points position occupant Logan McGlothlin, these drivers are appreciated for their perseverance. Their dedication to this league is not unnoticed, and we look forward to their return in the Fall 2019 Season.


We nevertheless congratulate Andrew Faryniarz on his third win of the season. His talent is something to be admired and learned from.