From Ross Cado, FFE Owner and Driver
Sunday evening's American SimRacing League race had me rolling off in the 11th position and spending much of the race in the mid-teens in the running order. Although from the get-go I reasoned to try my hand at being aggressive and make an early charge to the front to establish favorable track position, an early caution on lap 5 briefly impeded that push. Then, two scares of trucks getting out of shape in front of me again altered my rhythm. These two separate incidents had me lifting off the throttle to avoid trouble, thus causing me to settle in the high- to mid-teens in positions.
What followed was a green flag run lasting around 61 laps, including two rounds of green flag pits stops. The restart that followed bred another caution, and I unfortunately got tangled in a mess involving the #11, #31, and #26 trucks.
While I did not conclude at the time that the damage assessed in that skirmish was severe enough to merit pit road service, I would later come to the realization that this was a costly miscalculation. I elected to stay out on the racetrack in hopes of driving what truck I had left to a respectable finish.
On the first attempt at a green-white-checkered restart, I took the green flag in seventh position, but I just did not have the speed to keep up with the other top-10 trucks. The #09 truck quickly surmised this, and after pushing me for a bit down the frontstretch, moved to the inside to overtake me.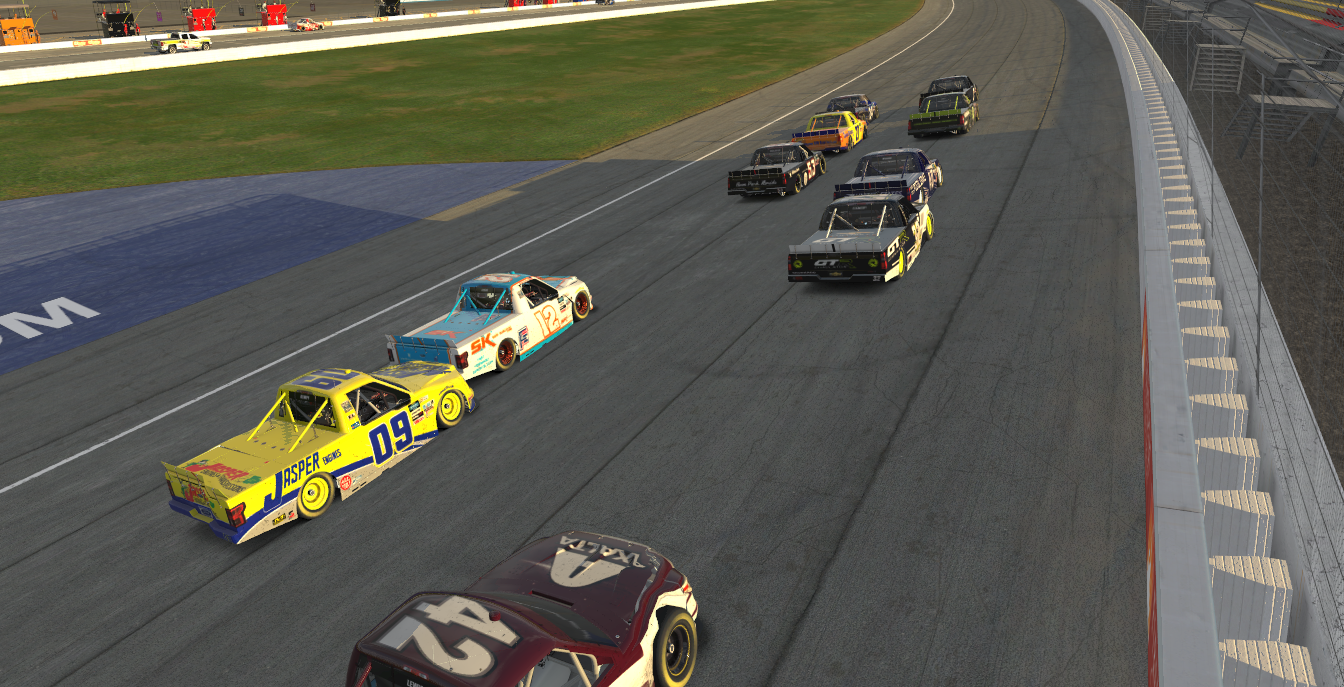 I continued to fall back in the pack at a precipitous pace, when entering turn 3, the #31 truck slightly cut across my nose from the top lane to the middle lane that I occupied. He spun and brought out another caution, setting the field up for another attempt at a green-white-checkered finish. This proved to be a blessing in disguise because it gave me an opportunity at some modicum of redemption to come to pit road and repair as much damage as I could before the field again restarted.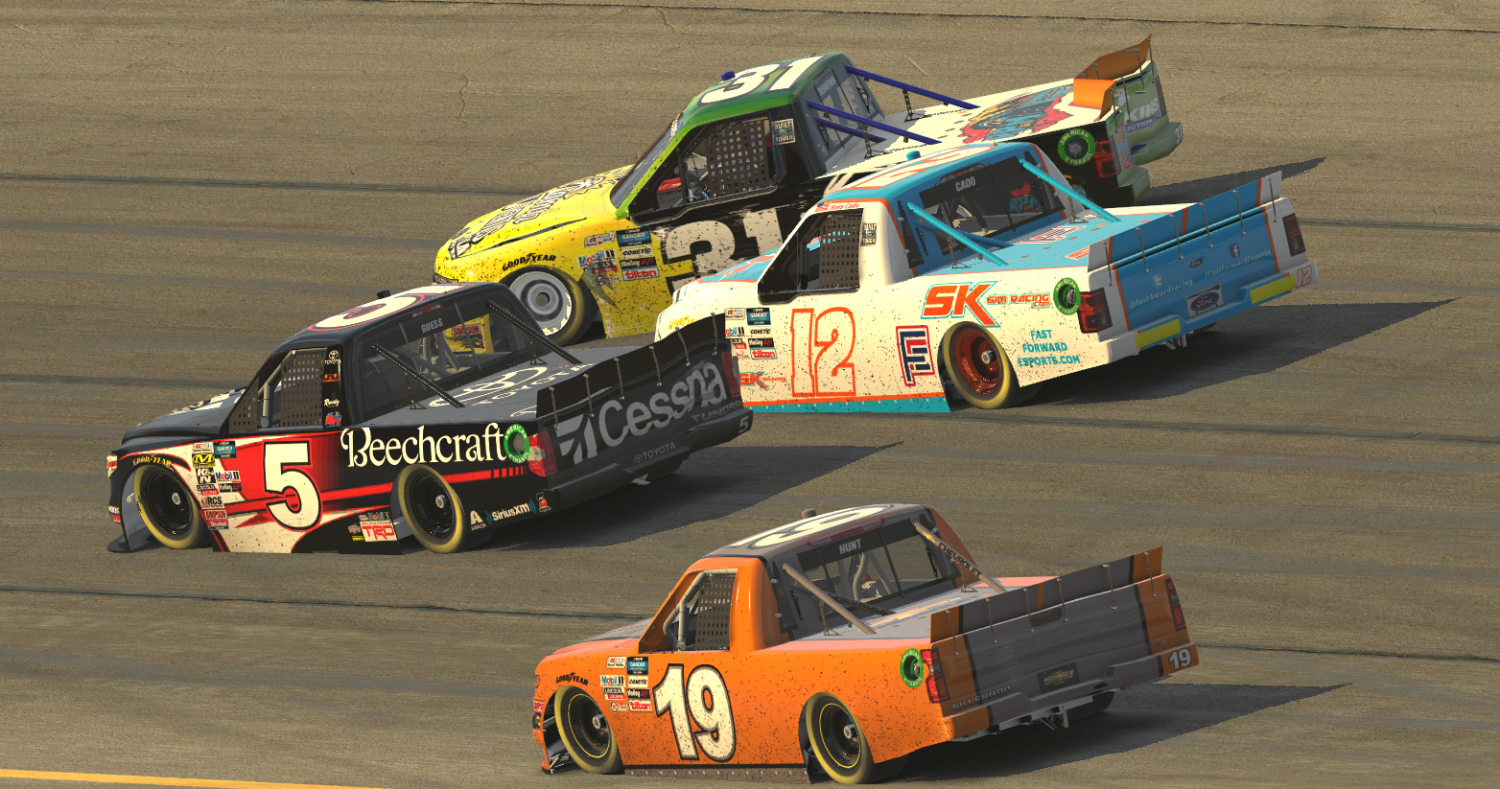 It turned out that I was assessed over two minutes of optional repairs, to my surprise. I was fortunately able to get over a minute and a half of the damage repaired before the field came back around to take the "one to go" signal from Race Control.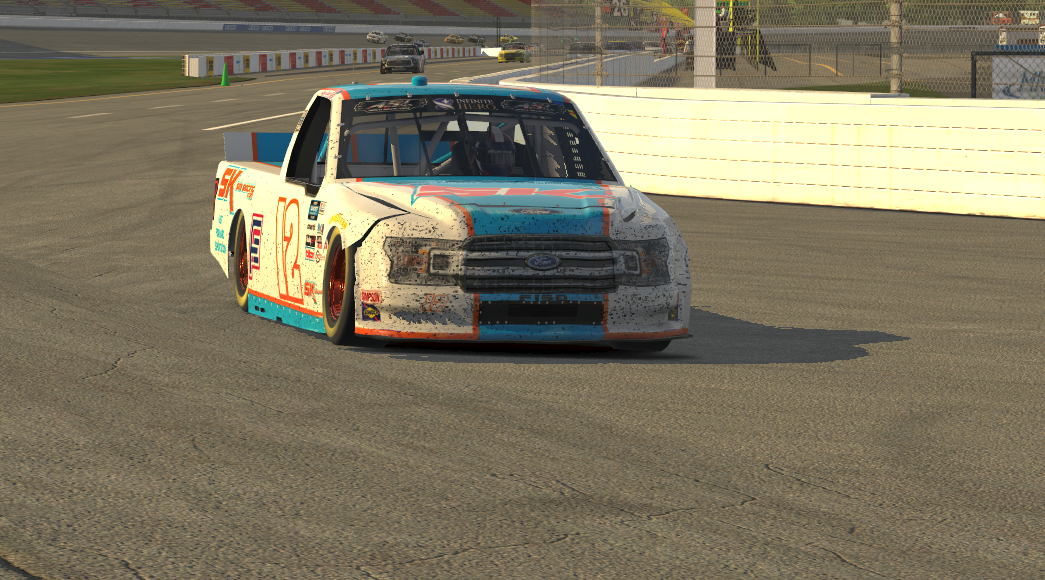 I then came back around to catch the field, restarting in 13th position for what would turn out to be a wild finish, to put it mildly. Multiple trucks in the top-10 crashed coming out of the final turn on the last lap, and I went from 12th place to finish 6th place.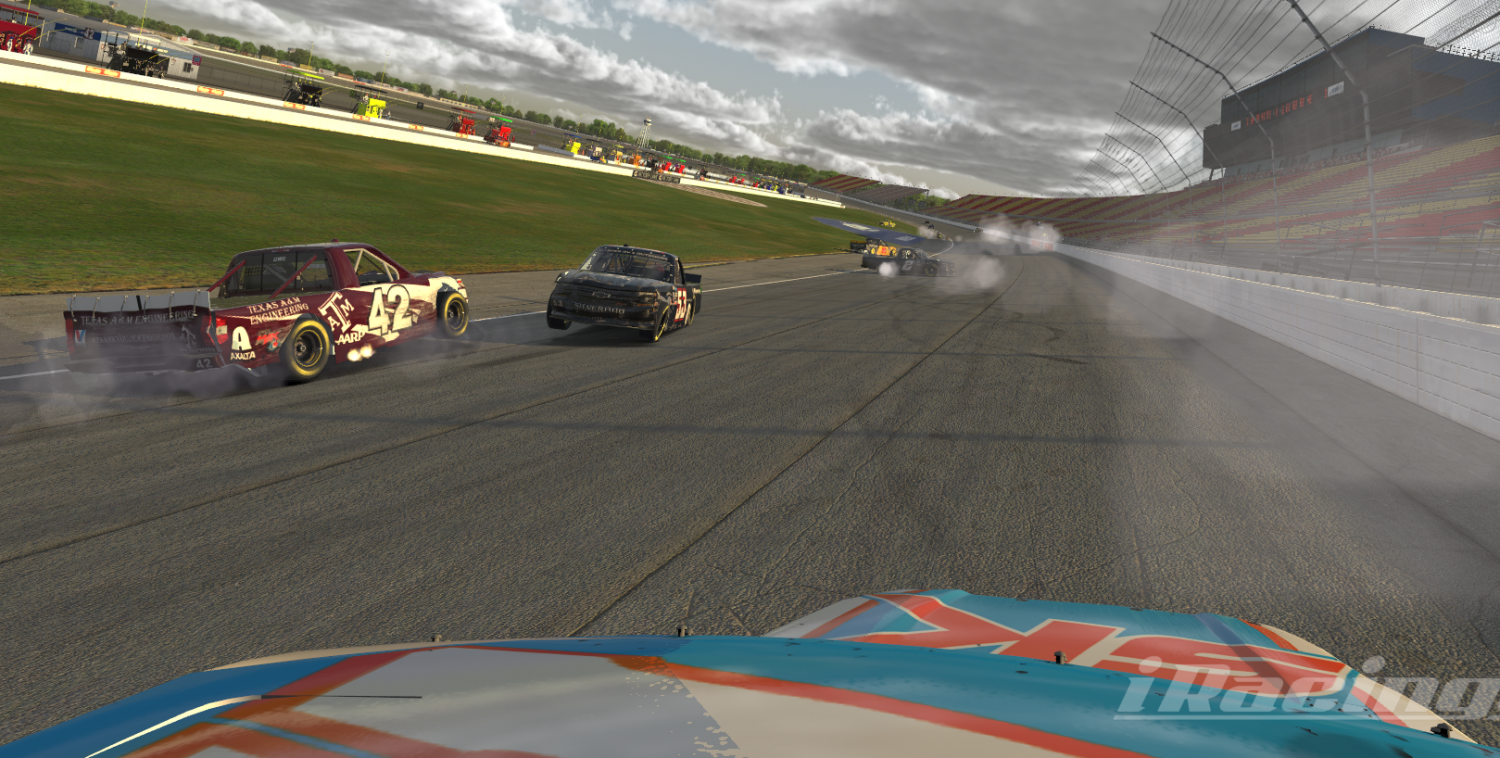 I am grateful to finally score a top-10 finish in the American SimRacing Series, and also that this strong finish came for the first race of my partnership with SK Sim Racing. Hopefully, many more impressive finishes will follow, to include next week's 24-lapper at the Daytona Road Course. This showing at Michigan had me gaining eleven spots in the championship standings. I am now tied for 11th place with Bryson Tomlinson.
This race allowed me to test my prowess with long green flag runs and the pit cycles that they demand. I am satisfied with my improvement in that regard, as I was more measured and even-handed than in the past. I managed my equipment nicely and hit my marks in a responsible and consistent manner. Moreover, I had flawless pit road entries when pitting under green.
I also experience plenty of late race restarts that get the heart rate to climb considerably. This league has no shortage of those high-pressure moments in which everything is on the line and one slip-up by someone–especially yourself–can mean the difference between the glory of victory or the visceral disappointment of failure.
As with all sanctioned racing, patience certainly undergoes trials in the American SimRacing League, specifically with regard to risking being at the receiving end of another driver's mistake or carelessness. At this juncture of attaining my stride as a driver in this league, I have begun to get used to how specific individuals pilot their vehicles in terms of driving style and in terms of how they race around others.
All told, I am grateful with my overall performance this past Sunday. Absent the entanglements with other racers, I would say that I accomplished a great deal behind the wheel, and I hope to take this knowledge forward with me so that I can contend for this championship.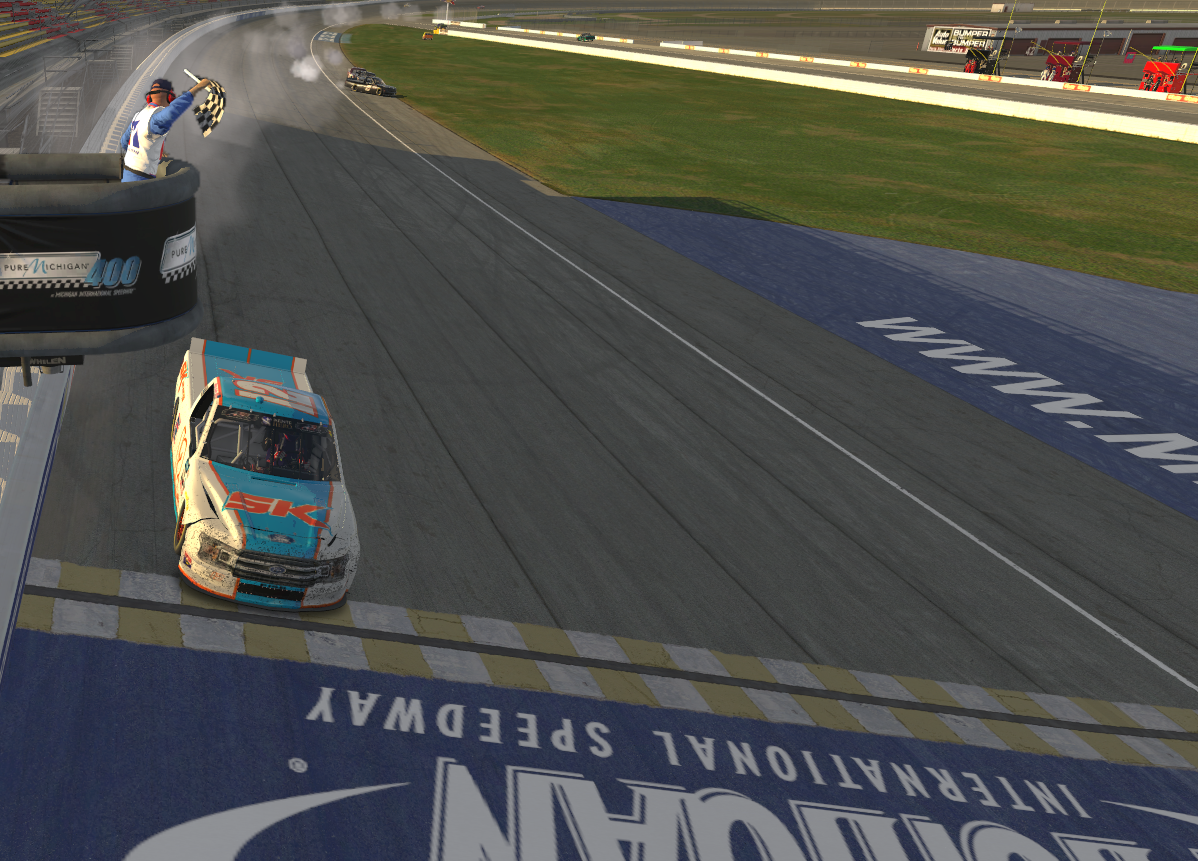 Ross Cado #12 Race Stats
Started: 11th
Finished 6th
Laps Led: 0
Fastest Lap Time: 39.370 (Lap 58)
Incidents: 8