From Ross Cado, FFE Owner and Driver
On Monday evening, I made my first start in the Real Sim Racing Full Throttle Cup Series since November 2018. This time piloting the #50 Fast Forward Esports Ford Mustang, I performed at a level much better than I had anticipated, given the notoriously tough competition level of this series. Just this past winter, I participated in the B-car level Icebreaker Winter Series, but earned only six top-10 finishes and zero top-5 finishes in the seasons' ten races. I wound up eighth in the standings at the conclusion of the season, and my highest finish in all ten races had been only sixth. So, that serves as a testament to the difficultly that Real Sim Racing presents to me.
Broadcast link: https://www.youtube.com/watch?v=BoJ7WKRld9Q&t=4513s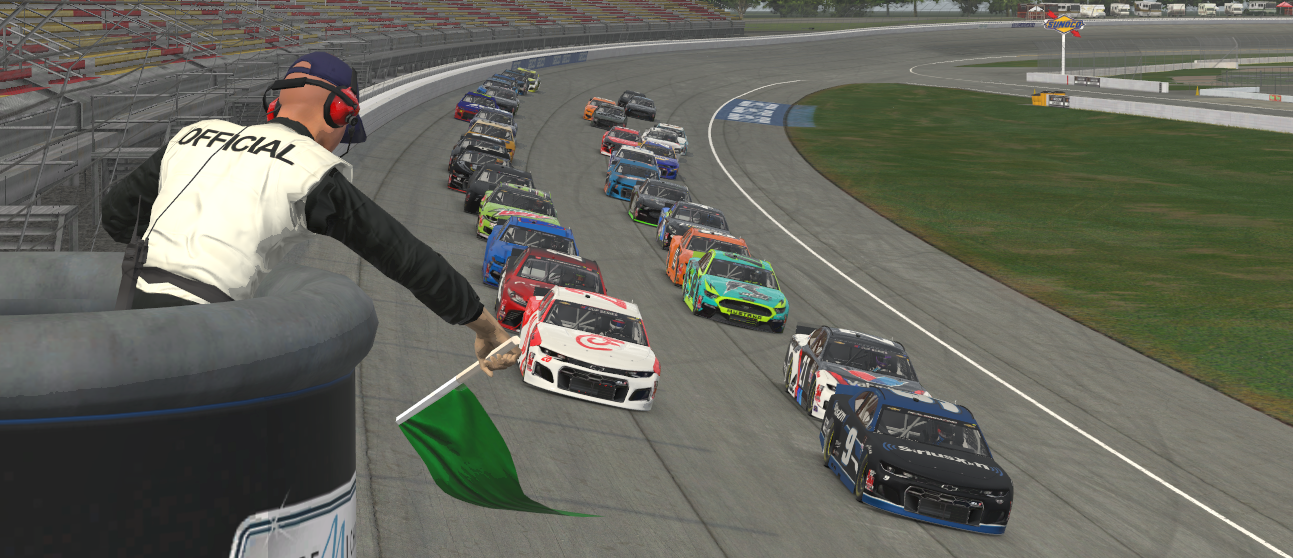 As far as RSR's Full Throttle Cup Series goes, in my time competing in this series from 2016 to 2018, my highest ever finish was a third place at Darlington Raceway. So, making my return with such short notice and with full awareness of the heightened level of competition at this series' employ, I did not expect to perform at the level that I did. However, from the drop of the green flag I was aggressive with gaining track position early. An early caution on lap 12 presented the decision of whether to save a set of tires for later, or to change them after twelve laps of racing. I elected to change tires in order to have the speed that comes with fresh rubber, thus planning on pitting later than the drivers who stayed out.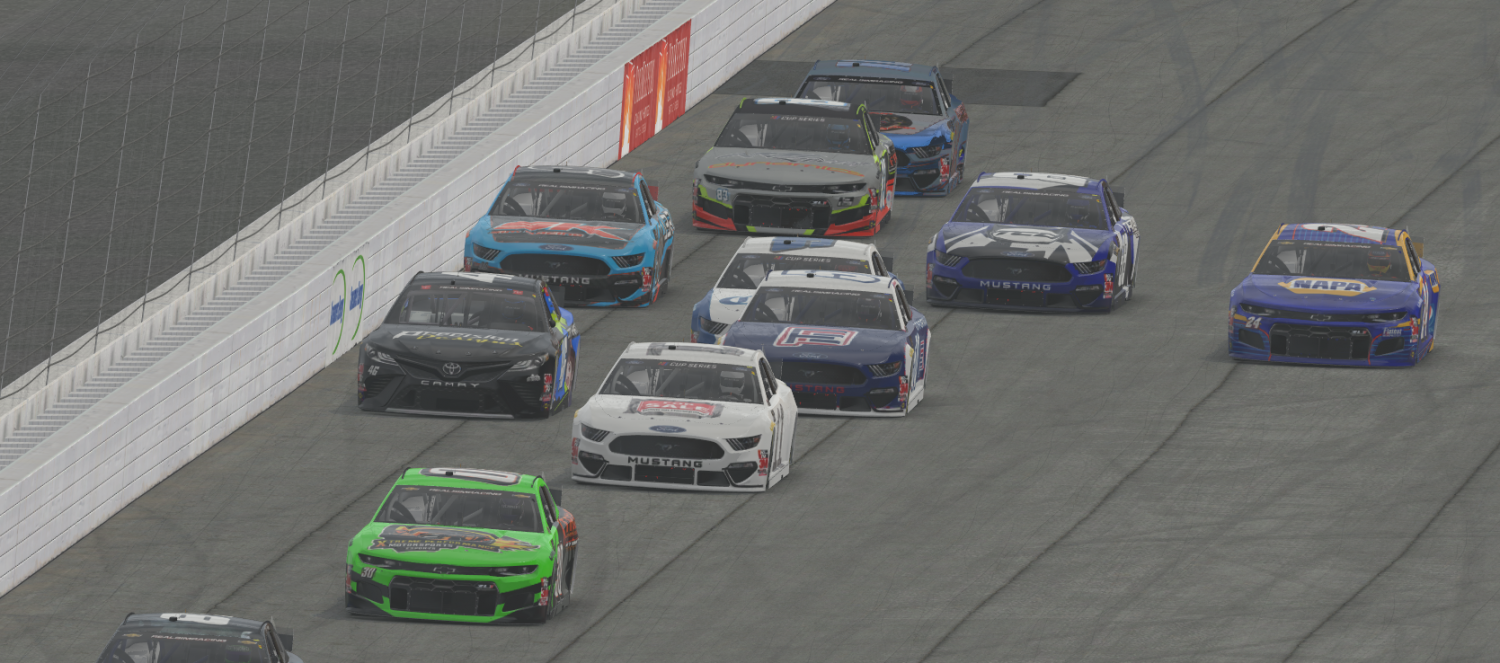 As the race progressed onward, I found myself securely in the top-10 and executing improved prudence with green flag pit stops. I made my pit stop on lap 51, with thirty laps remaining in the race. Pit road entry under green flag conditions tends to be easier for me when I pit behind several cars, because it allows me to use other cars as a metric by which to modulate my own entry, most notably with the brake pedal input. My pit road entry was nearly flawless, as I gained some distance on the cars pitting in front of me. My pit stop was without incident, and I was down and away in a flash.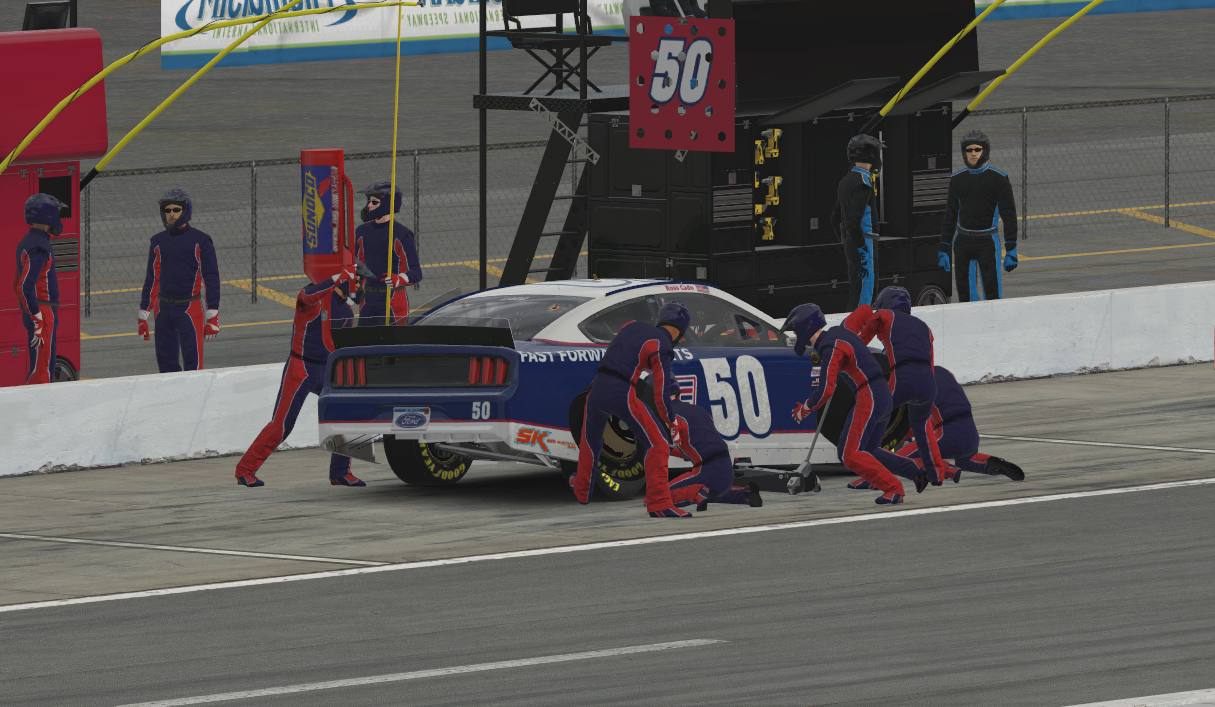 Following my pit stop, the strategy had me slotted in 8th in the running order behind the #12 car. We worked together and, along with the #1 car, joined the leaders. I also ran my fastest lap on lap 56, just five laps after I made my pit stop. We stayed green until the yellow flag came out on lap 67, which totally did away with tire strategy.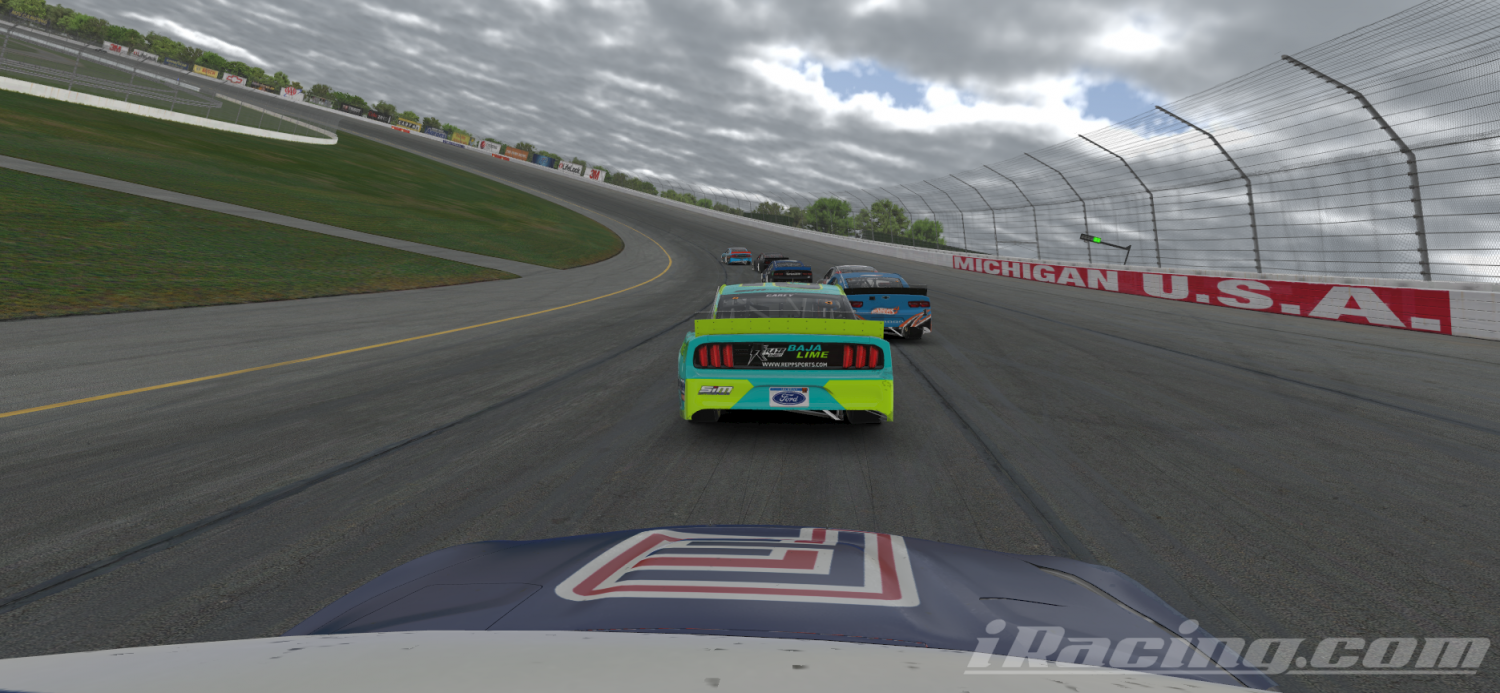 Another nicely executed pit stop placed me in 5th place for the lap 71 restart. The yellow flag was unfurled the very next lap, however, following an incident involving the #27 car. Then, after the quick caution had concluded, I found myself restarting on lap 76 in the 4th position.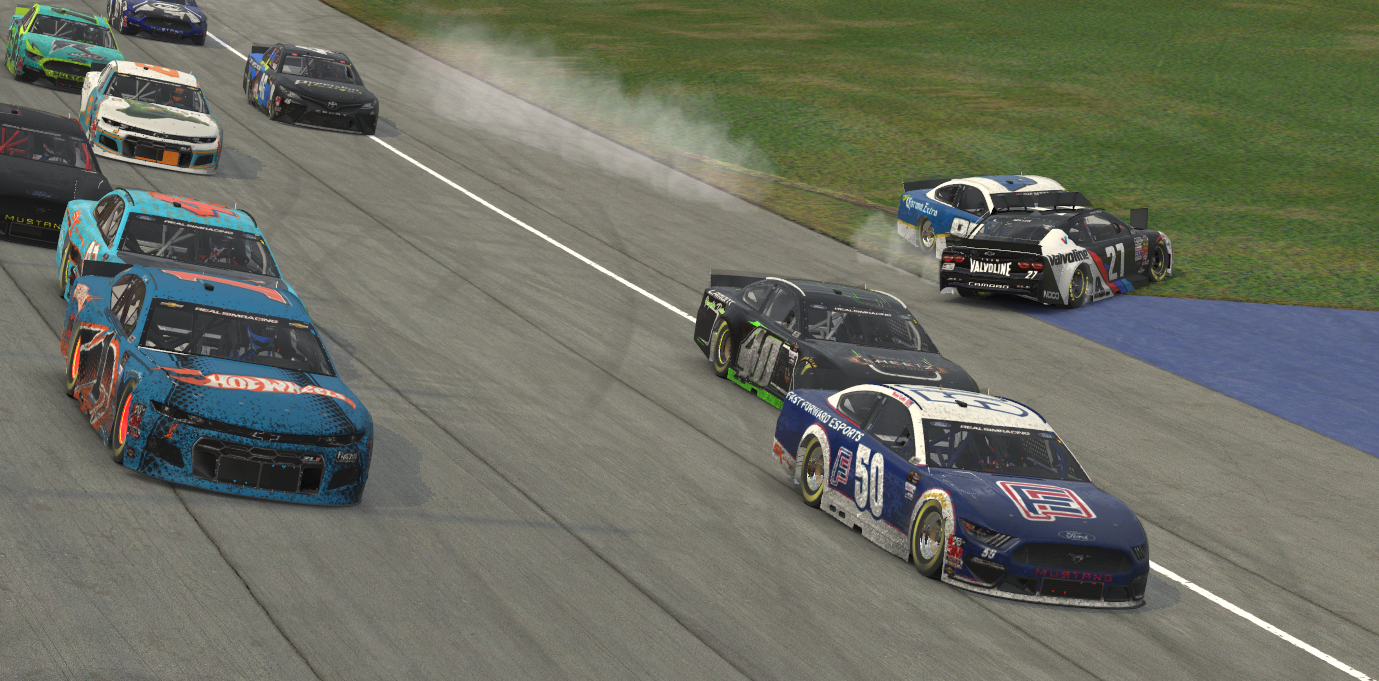 From there, it was a downright brawl to the end, with me racing hard with the #9, #90, #40, and #44 for the win. I had barely made it up to 3rd place, when as we sailed off into turn 3 on the penultimate lap, the #44 car nudged me and got me slightly out of shape. This caused a loss of momentum that lingered for the remainder of the corner and allowed the #8 and #88 to make their way to my inside.

As we screamed toward the finished line on the last lap, I was certain that I had lost more positions than I actually had, in fact. I crossed the line in 6th place.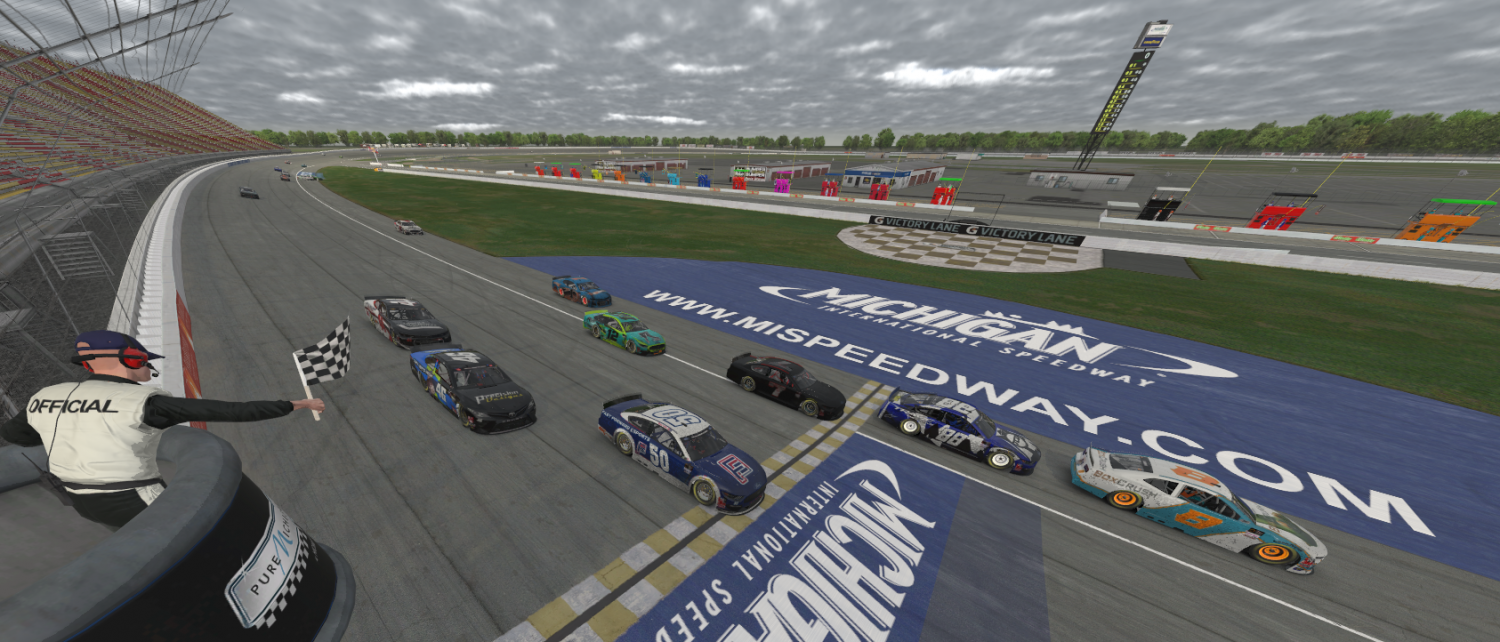 I am content with the level of skill and prowess that I showcased in my return to RSR. Hopefully, more impressive finishes will follow for the #50 Mustang.