From Ross Cado, FFE Owner and Driver
Sunday evening's 24-lap battle on the Daytona Road Course in American SimRacing League proved to be a heart-breaker, but yet again I showcased my resolve and rebounded considerably following a catastrophic incident.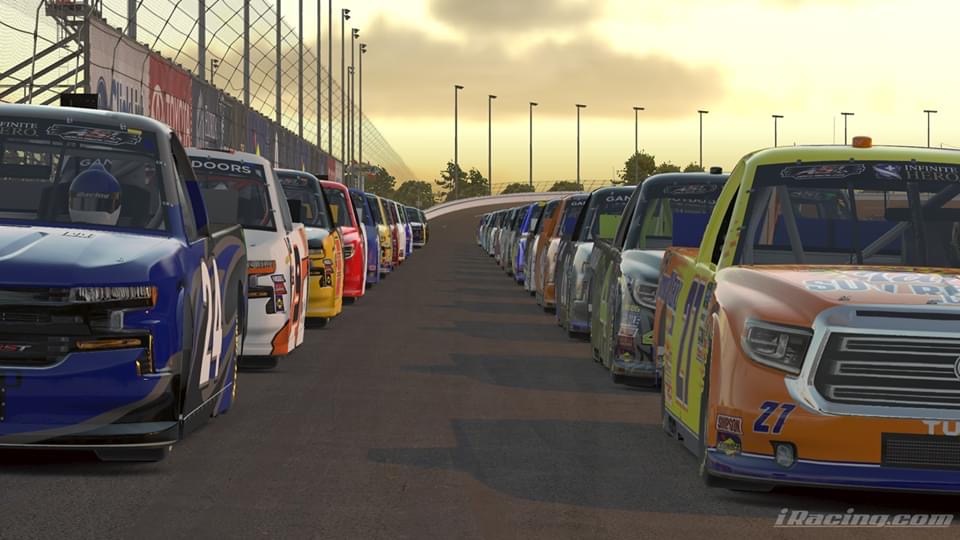 After qualifying 16th, I quickly attained the 12th position after a few drivers tangled on lap 1. As far as mistakes on my part go, on lap 3 I slipped off the racetrack and into the grass in the "esses" portion just beyond turn 1. Fortunately, I gathered it up and continued onward. I soon settled in the 13th position and remained there just before electing to take my #12 F-150 to pit road.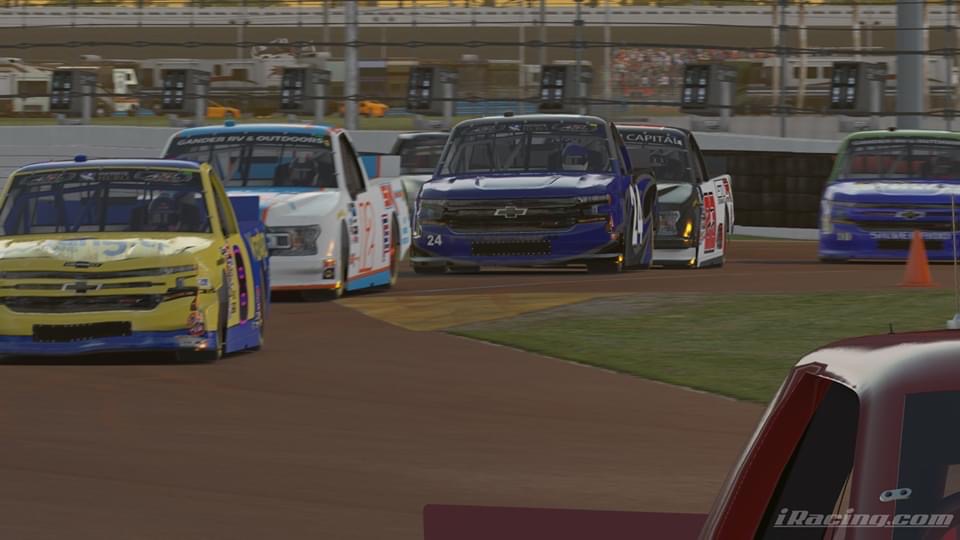 Well before this race, I had been committed to the strategy of pitting early at the end of lap 9, before the scheduled competition caution on lap 12. In theory, this strategy would have ensured that I completed my service before other drivers, and then I carefully puttered around the circuit while waiting for the yellow flag to wave. Then, having already taken tires and then taking it easy on them for the immediate following laps, I hoped to restart towards the front. However, it turned out that many other competitive drivers employed the strategy of pitting early. Once the one-to-go indication was given during the yellow flag, I found myself in position to restart 14th.
Speaking of the number 14, my 14th place position was soon changed to 25th, courtesy of the #14 truck. For two yellow flag laps, the admins and the driver of the #14 danced around pleasantries and modesty regarding him regaining his lap back, as he had earned the free pass award. At the advice of an admin, the #14 pitted a lap too early under yellow flag conditions and was thus assumed to have forfeited his free pass. The admins offered him his lap back multiple times, but he refused, citing his lack of performance and that it didn't matter anyway. This volley morphed into an end-of-line command, and then a wave-by just as we were about to take the green flag. This sudden acquiescence to the admins resulted in the #14 rushing too late into the yellow flag to attain his position, catching me at the worst part of the frontstretch chicane. He slammed into me and spun me out just as the field nailed their gas pedals to once again sail off on the final green flag stretch to round out the race.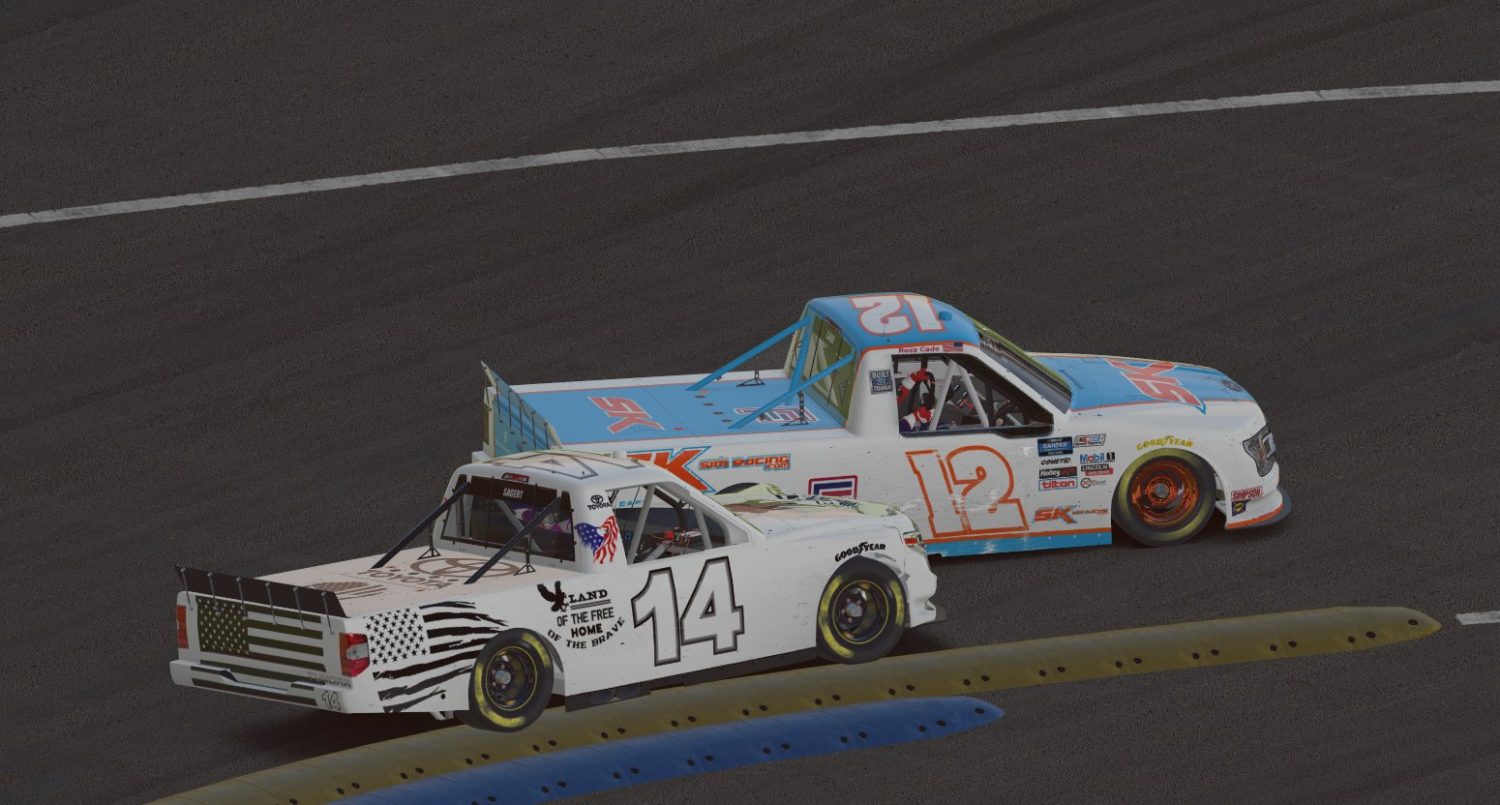 I quickly gathered my thoughts, and, on account of my humanity, had my rage accompanying me in the cockpit. Words were exchanged. The #14 proceeded onward for a bit, but exited the server in short order.
As for yours truly, I pressed onward, fighting for every position that I could regain within those remaining nine laps. I even gained four spots on lap 18 alone. In the end, I crossed the line in the 15th spot.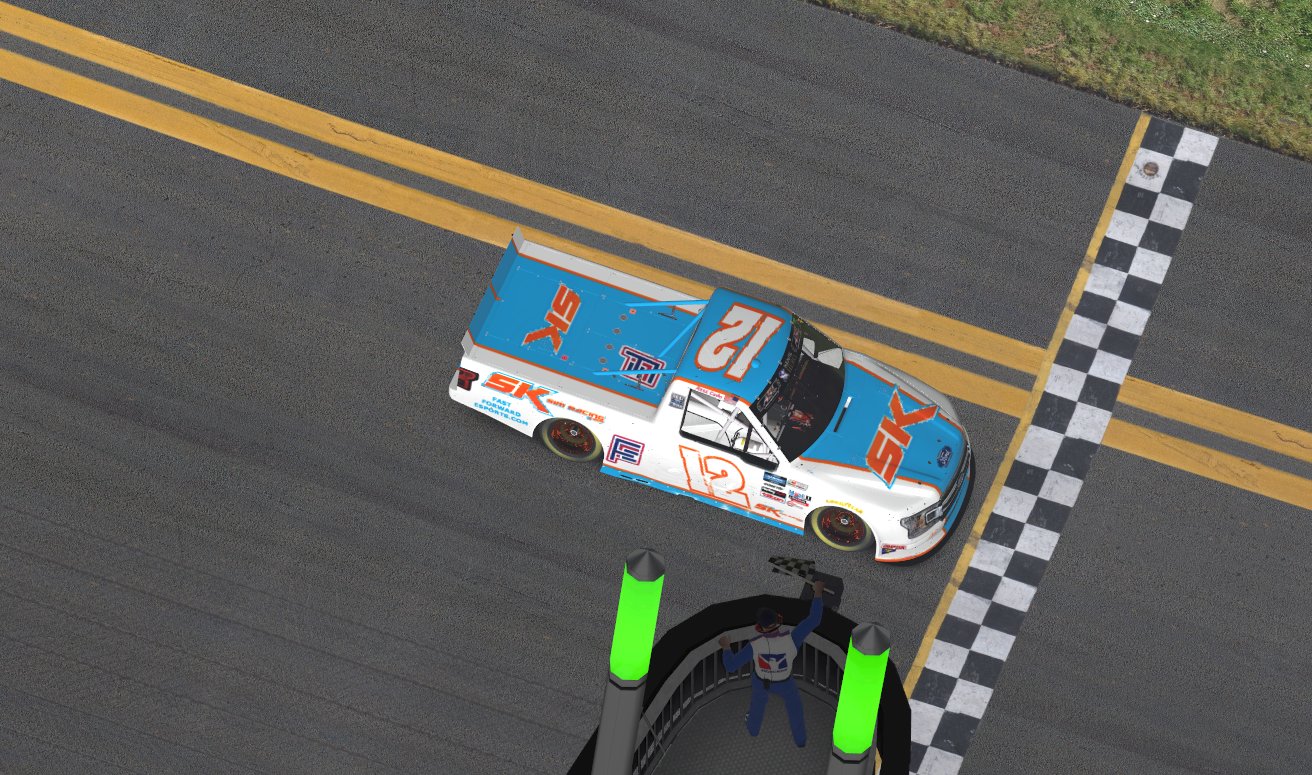 My anger lingered, and it even persists as I author this piece. I was even so angry that I forgot to save the replay. However, this incident is similar to so many other scrums I've experienced on iRacing, and I am fortunate to have garnered the maturity to allow myself to learn from them. Re-firing the engine as I sat broadsided on the racetrack at Daytona and taking off to regain what I had lost as a result of someone's learned helplessness–that is just a microcosm of the motivation that washes over me and prods me to double my efforts. While it may come across as trivial and silly, iRacing and the detriments that come along with competing wheel-to-wheel with others have taught me that, all told, I am in control of my actions (and reactions). Moreover, when my race is ruined by actions of someone else, I am able to utilize that disappointment and anger as fuel to try harder.
Gratitude is in order to SK Sim Racing for their sponsorship and to iRacing for building such an exciting platform on which to compete.
While I hope to score the win at World Wide Technology Raceway (Gateway) next week, hope will only get me so far. I have to earn it. I will give my best effort to do so.
Ross Cado #12 Race Stats
Started: 16th
Finished 15th
Laps Led: 0
Fastest Lap Time: 1:58.068 (Lap 4)
Incidents: 6