From Ross Cado, FFE Owner and Driver
On Sunday evening, I brought the SK Sim Racing Ford F-150 across the World Wide Technology Raceway finish line in 13th place, after clawing my way back up the running order following getting caught up in an early crash. At a track like Gateway where it is rather difficult to pass, establishing track position early on is at a premium. Fortunately, I qualified my #12 truck in the 7th position and showed muscle early on, maintaining that position.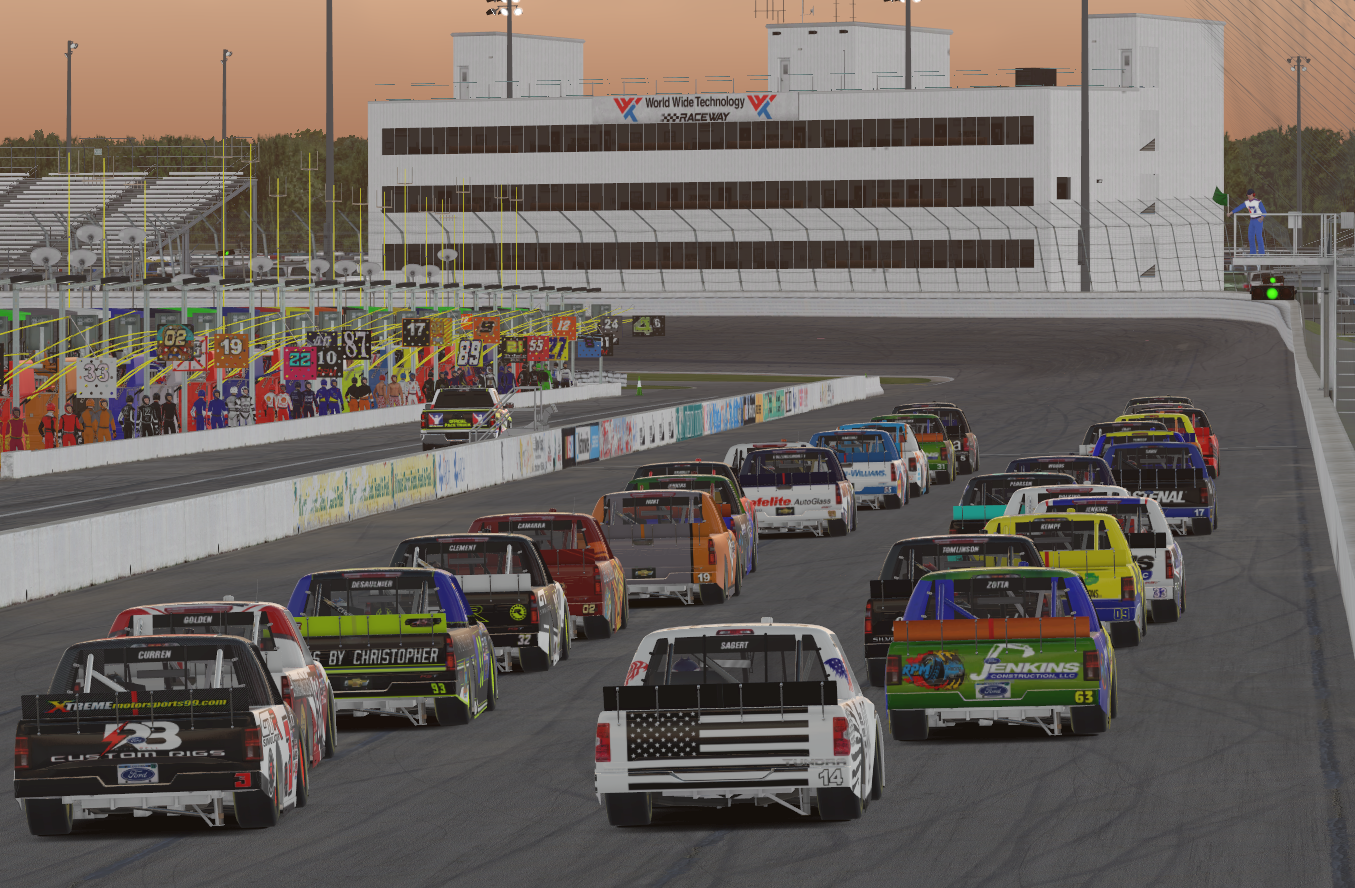 I was involved in a minor jam when the #21 truck slowed right in front of me after a missed shift, and the #55 truck ran into my rear bumper in a chain reaction. Other than that, the early going was shaping up to look rather promising. I gave up a spot to the #17, but was widening the gap between myself and the truck behind me. 
The first yellow flag of the race flew at lap 17, and I thought it was would be prudent strategy to take two right side tires, which fared well once we went back to green flag conditions. The previous occurrence repeated itself, as I restarted 7th but quickly surrendered that spot–this time to the #27 truck. The caution again came out, but we went went green again in short order. But what happened on the next restart would prove to be my undoing.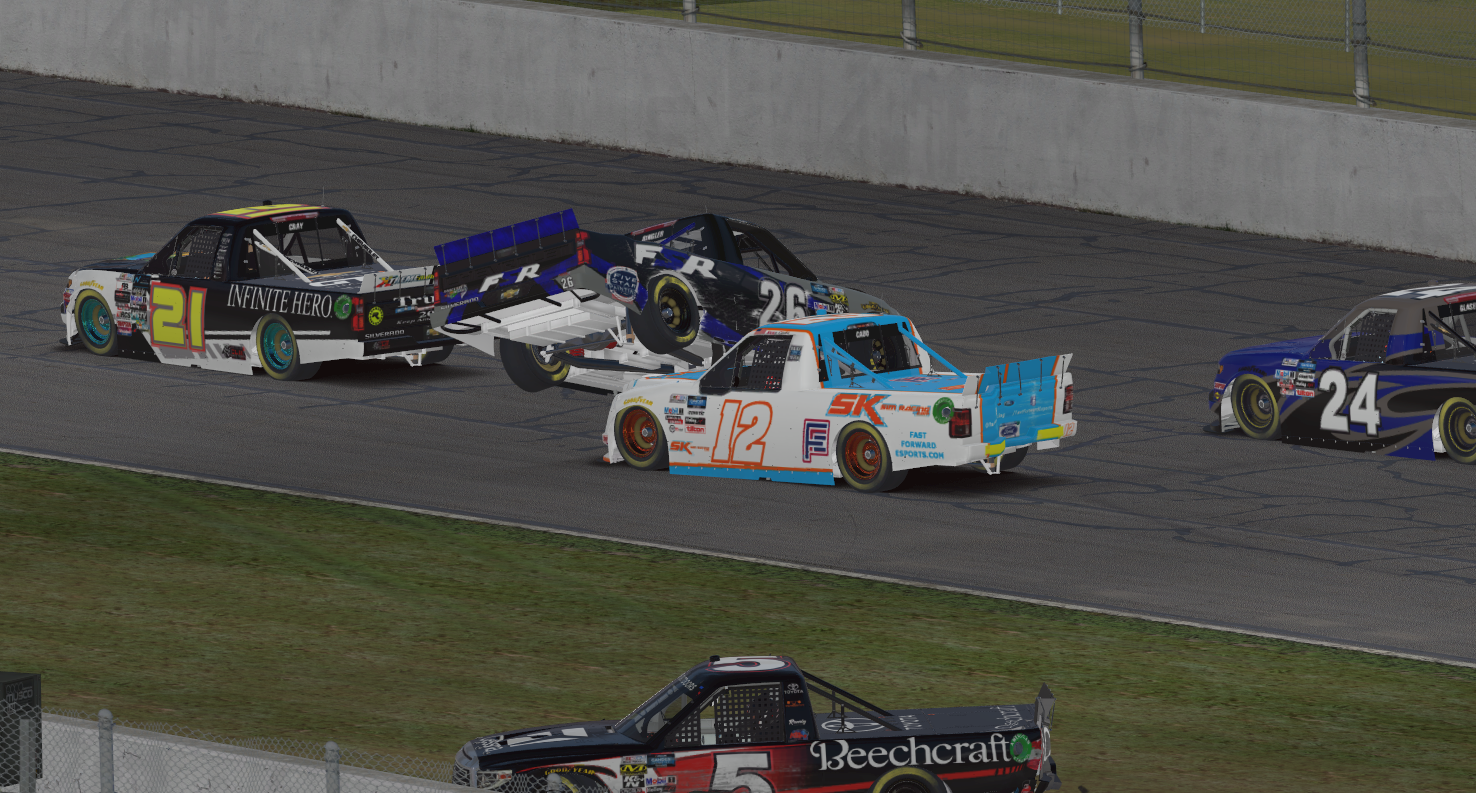 "Playing it safe" vs. being aggressive is a dichotomy that I think has been detrimental to my development as an iRacer. Too often I've made calculations such that perhaps I should bide my time in the back of the pack, or that I should be aggressive and stay near the front at all costs. But there really is no safe place on a racetrack in that regard. I mention this because it was, in fact, the leader who caused the crash on the restart of lap 29, in which I was caught up. Several other drivers were a part of this crash as well.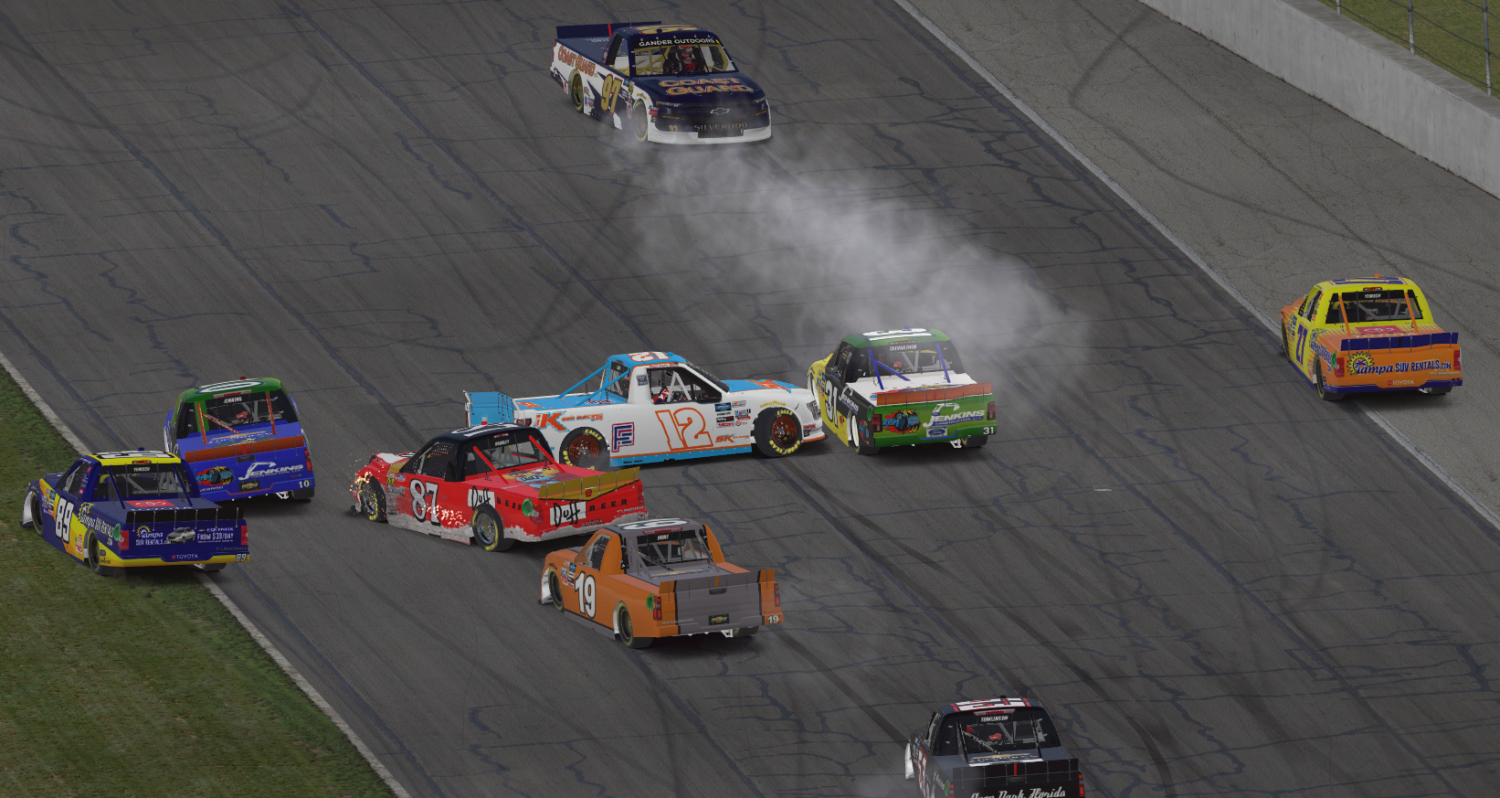 As for me, I had accrued over two and a half minutes of damage, which I could not fix in time for the subsequent restart. Fortunately, another yellow flag followed, which allowed me more time to work on repairing the damage, but what immediately followed was a painfully lengthy green flag run. What made this long run agonizing was that the damage to my truck severely inhibited the aerodynamics on the long straightaways. I slugged around in the high teens in the running order, and then I gradually moved up the running order as other drivers came in to service their trucks under the green flag. I figured that since my race was sullied anyway, then I might as well stay out and lead a lap in order to earn a bonus point. 
Finally relenting, I came down pit road on lap 76 to take tires and fuel. As if falling victim to others' mistakes in this race weren't enough, I reprised my role as my own worst enemy when I forgot to check my settings to indicate that I wanted to change tires. Having given up so much time with that error, I checked only my right side tires, which were then changed, and then I was down and away.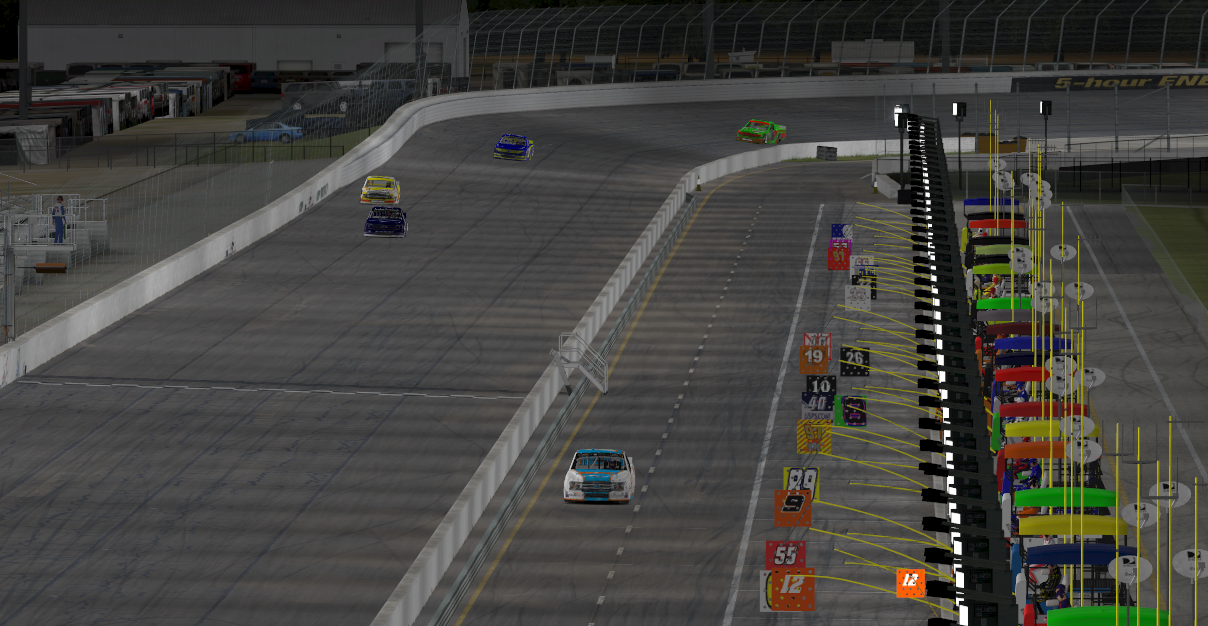 Twenty more green flag laps followed, and then the first iteration of my saving grace came when the yellow flag was waved again on lap 95. I fixed more damage. The remaining two cautions, both meriting green-white-checkered restarts, allowed me to fix more damage. Having a more aerodynamic truck at this juncture, I was able to overtake more trucks. The final green-white-checkered had me regaining four spots. However, coming to the checkered flag, the #93 truck blocked to defend his position, which allowed the #33 truck to scoot by and grab another spot from me. I regret not taking the outside line through that final corner, but in that moment, 1) I didn't have faith that I would overtake the #93 in that manner, and 2) I wasn't aware that the #33 was so close.

In the end, I finished 13th. After so many laps of practice and a race nine laps more than the scheduled 100, I was nevertheless glad to finally be finished with Gateway. These repetitive sub-par finishes are frustrating because I know that I can perform better than the final results show. I would much prefer to rely solely on skill behind the wheel, rather than some deus ex machina after being taken out by someone else's mistake.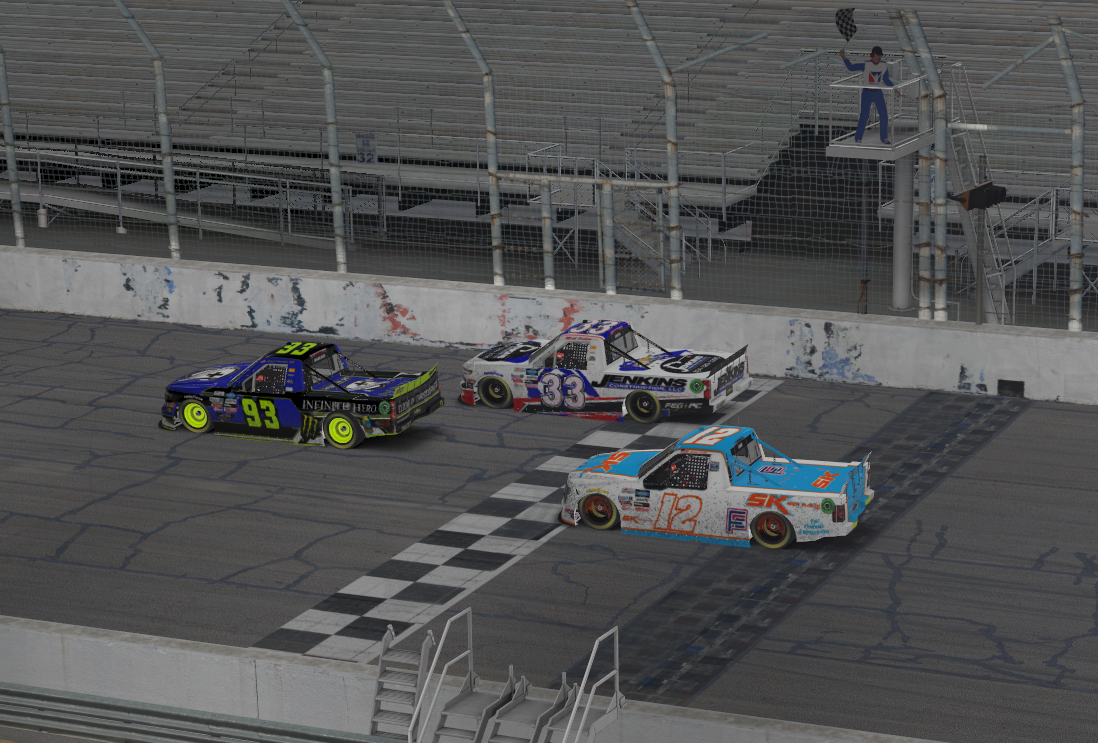 I will press onward to Lucas Oil Raceway and keep trying to turn this season around.
Ross Cado #12 Race Stats
Started: 7th
Finished 13th
Laps Led: 3
Fastest Lap Time: 34.152 (Lap 4)
Incidents: 12