From Ross Cado, FFE Owner and Driver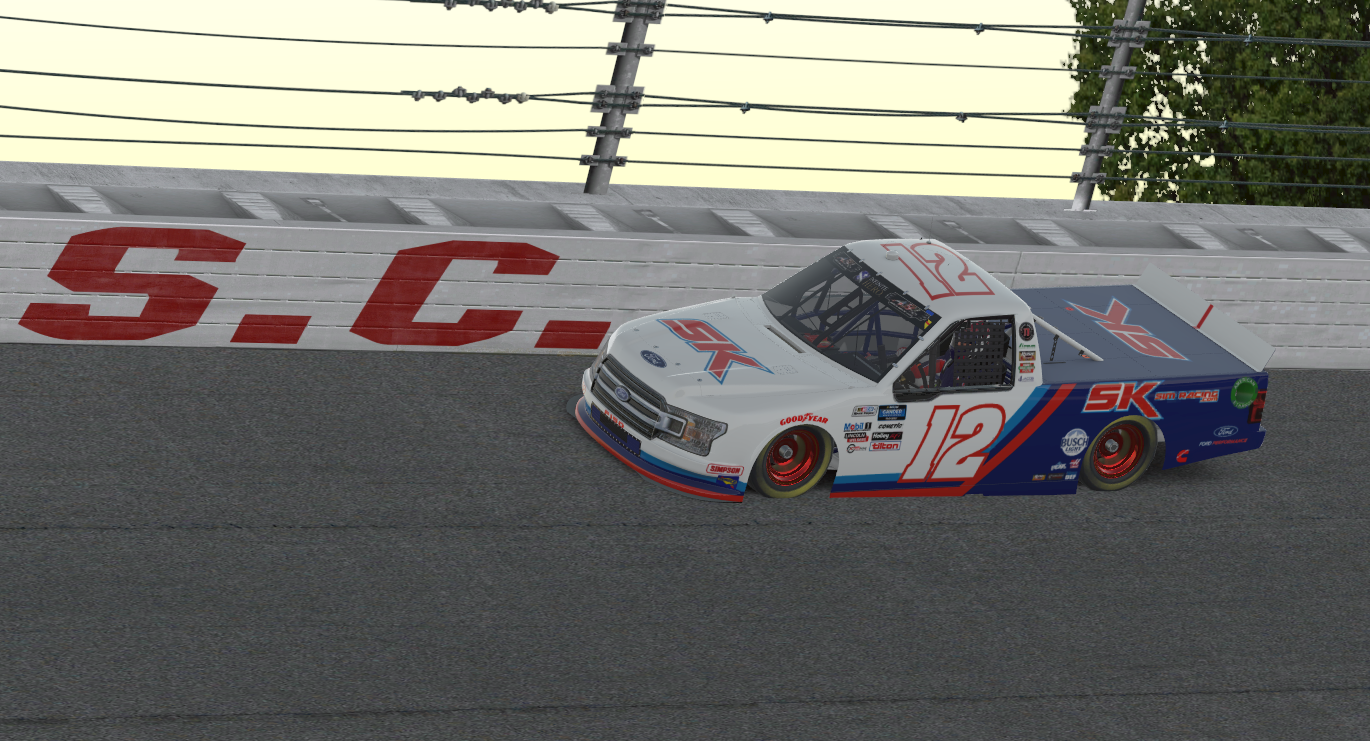 After not occupying my drivers seat in iRacing for over a week due to a trip up north, which was conveniently a bye-week in American Simracing League, I took to the grid this past Sunday evening and competed at Darlington Raceway. Donning a Mark Martin paint scheme, qualified my #12 SK Sim Racing Ford F-150 in the 15th position.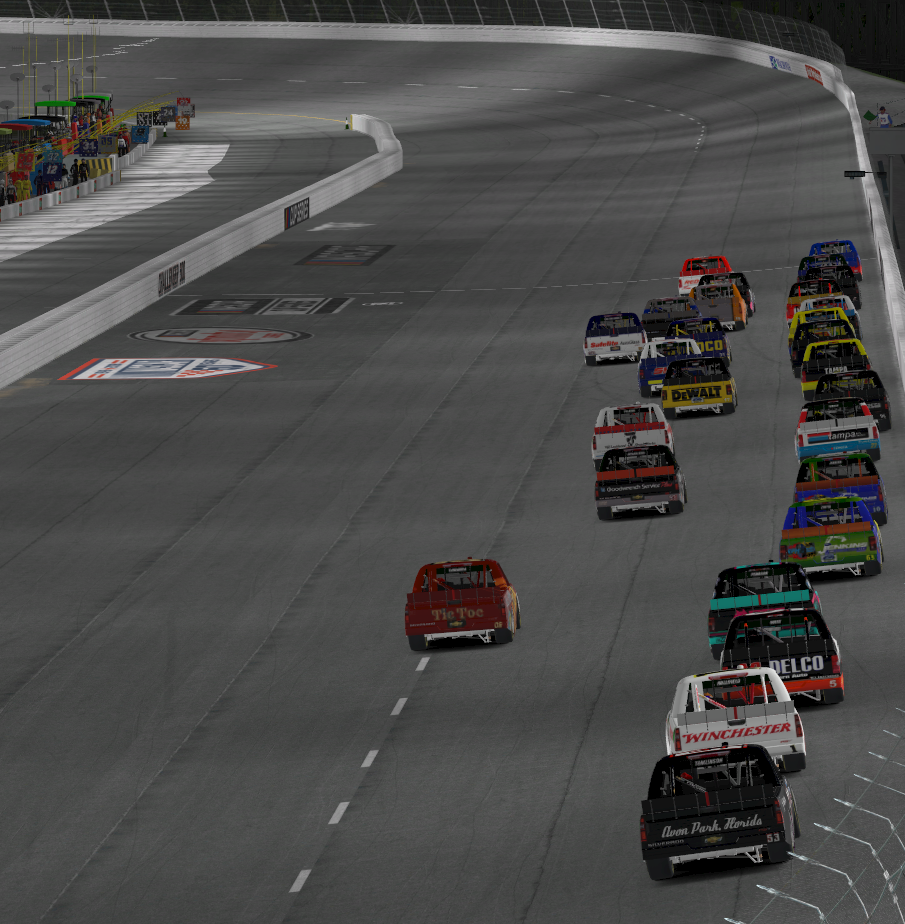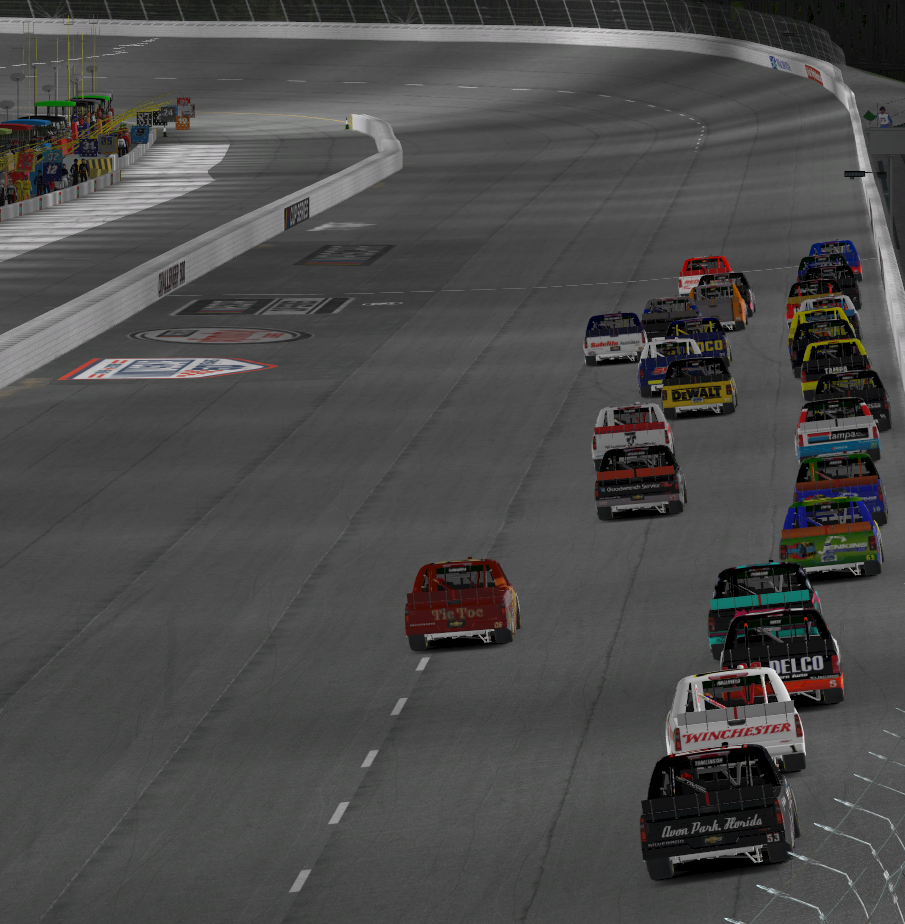 The race was tame for the most part, rife with long green flag runs. In the closing twenty-or-so laps, I found myself in the running for a top-5 finish. The #31 truck and I were battling hard with three laps to go, and I threw a block going into turn 3. Our bumpers did not line up and I slid across his nose. Fortunately, I didn't spin out, but several trucks passed me due to my lost momentum, and I suddenly went from 4th to 10th in the running. I was, however, able to get back by the #9 truck to claim the 9th place position before the checkered flag flew.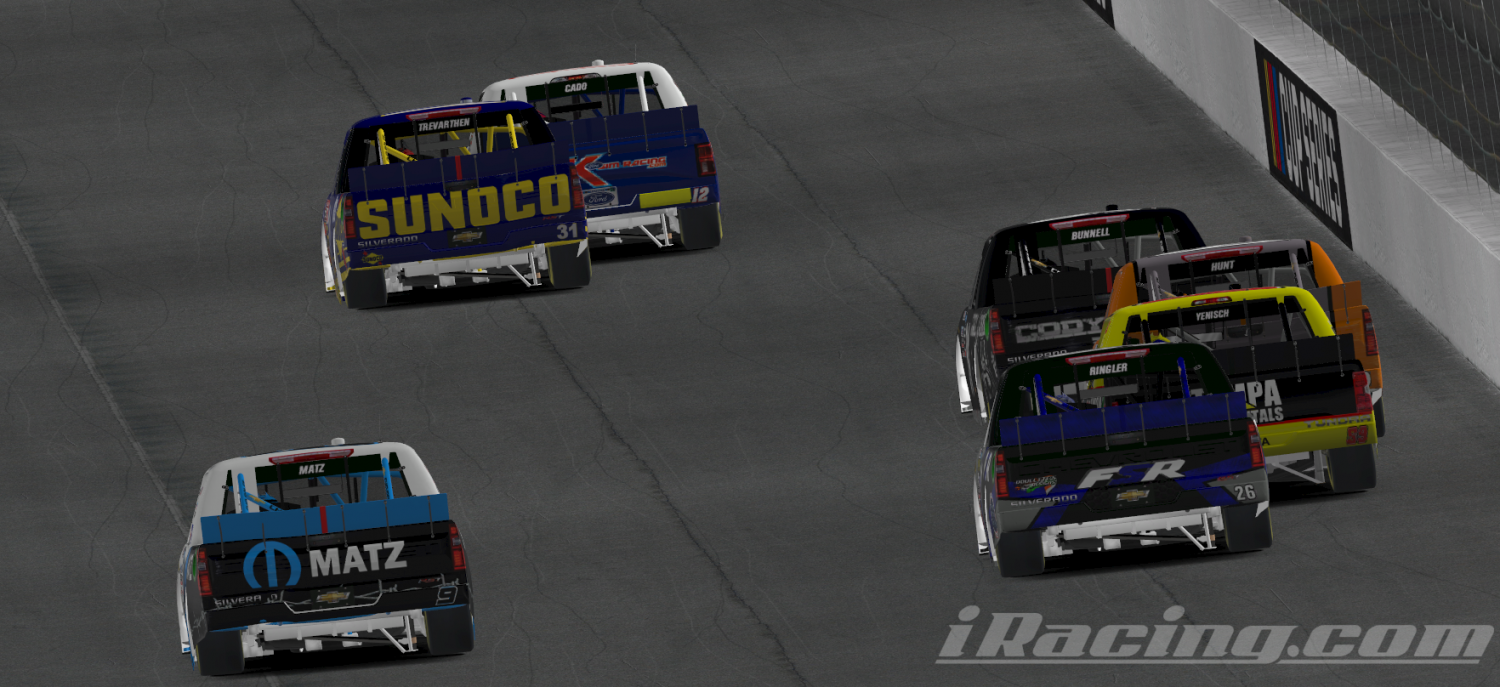 The sting of missing out on a would-be top-5 finish was evened out by the gratitude of the slip-up not being as catastrophic as it could have been. I nevertheless find myself a single point outside of the cut line for the coveted top-12 spots in the standings. Hopefully I can build on this top-10 finish at Darlington and perform well at North Wilkesboro this Sunday.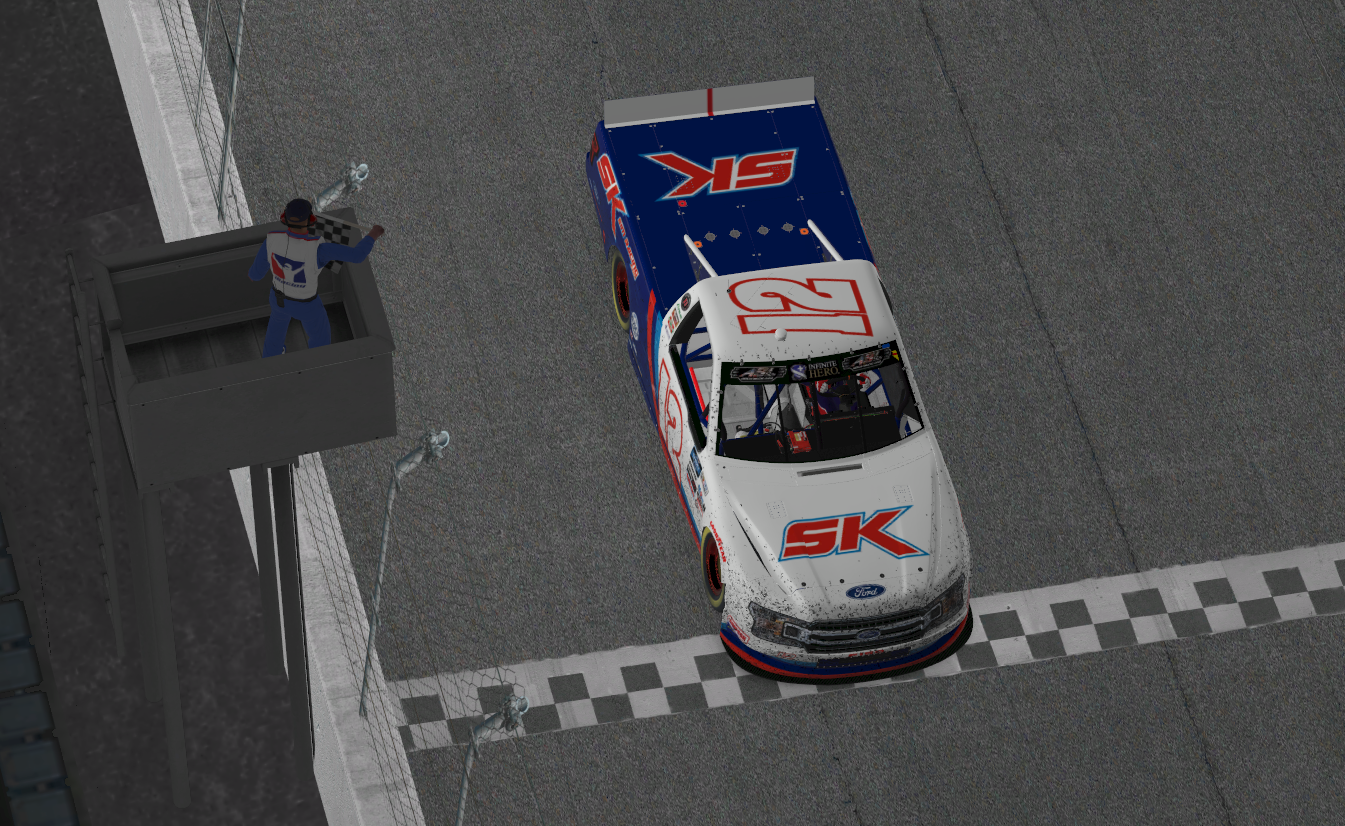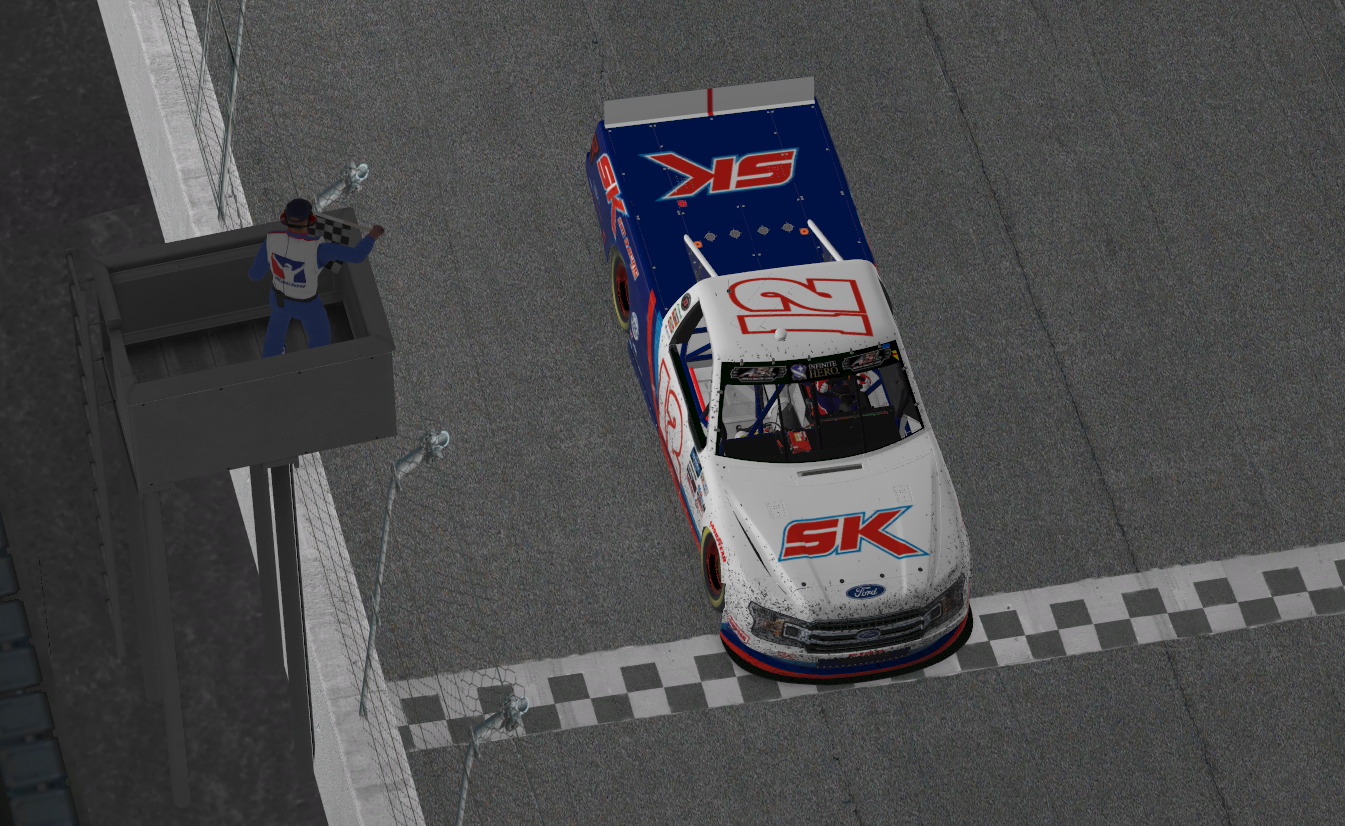 In all the many leagues in which I have competed, ASL evokes a special fervor within me–a yearning to win a race unlike I have experienced in most other leagues. While I was fortunate to win in my first ever start in ASL–the qualifying race at Daytona–I long to win one of these regular season points-paying races and guarantee my spot in the conversation for the championship.
_________________________________________________________________
So, we turn from a "Good points day, I guess"-type story to a race with a different flavor…

Monday evening had me competing in the Real Sim Racing Full Throttle Cup Series after missing their Darlington race due to my travels. Racing part-time in this famed series, I am not in the hunt for the championship at all. I am just there to try to finally win a race in this series and not make a fool of myself.

For this bout at Richmond Raceway, I gridded my #50 Ford Mustang in the 16th position and maintained around a high-teens performance in the running order. Yellow flags came and went, to include the first yellow flag that I myself have caused in this series in years. The #30 had been battling with me at various points in the race, and on lap 115 I decided to try my hand at overtaking him on the outside lane in turns 1 and 2. My car got loose on the higher lane, resulting in the left-front of my car making contact with the #30. We both spun down the backstretch, and even made hard contact once we both re-fired our race cars and attempted to scurry onward to avoid getting passed by the pace car.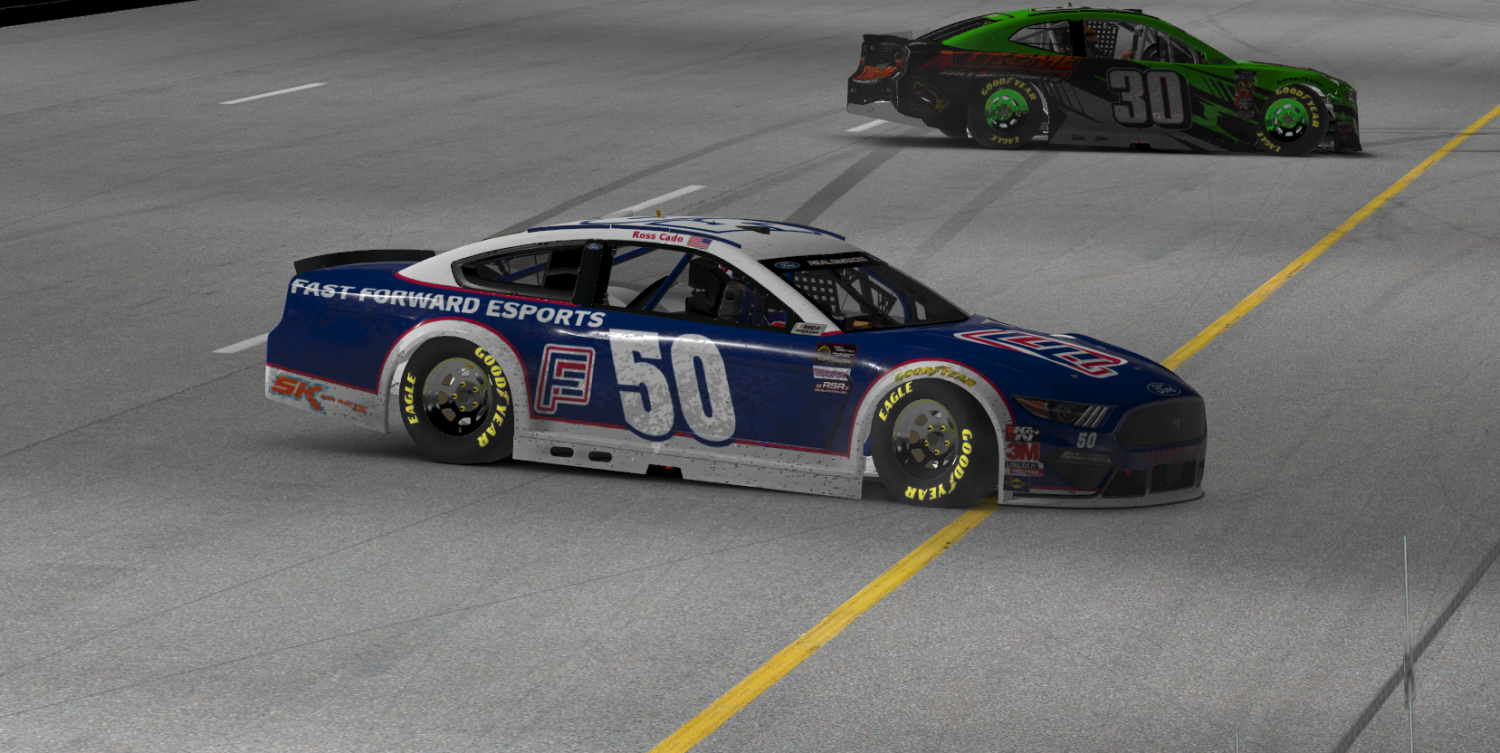 Luckily, I did not make contact with the wall, and what contact I did indeed make with the #30 car only caused mostly cosmetic damage, which I fixed in the pits.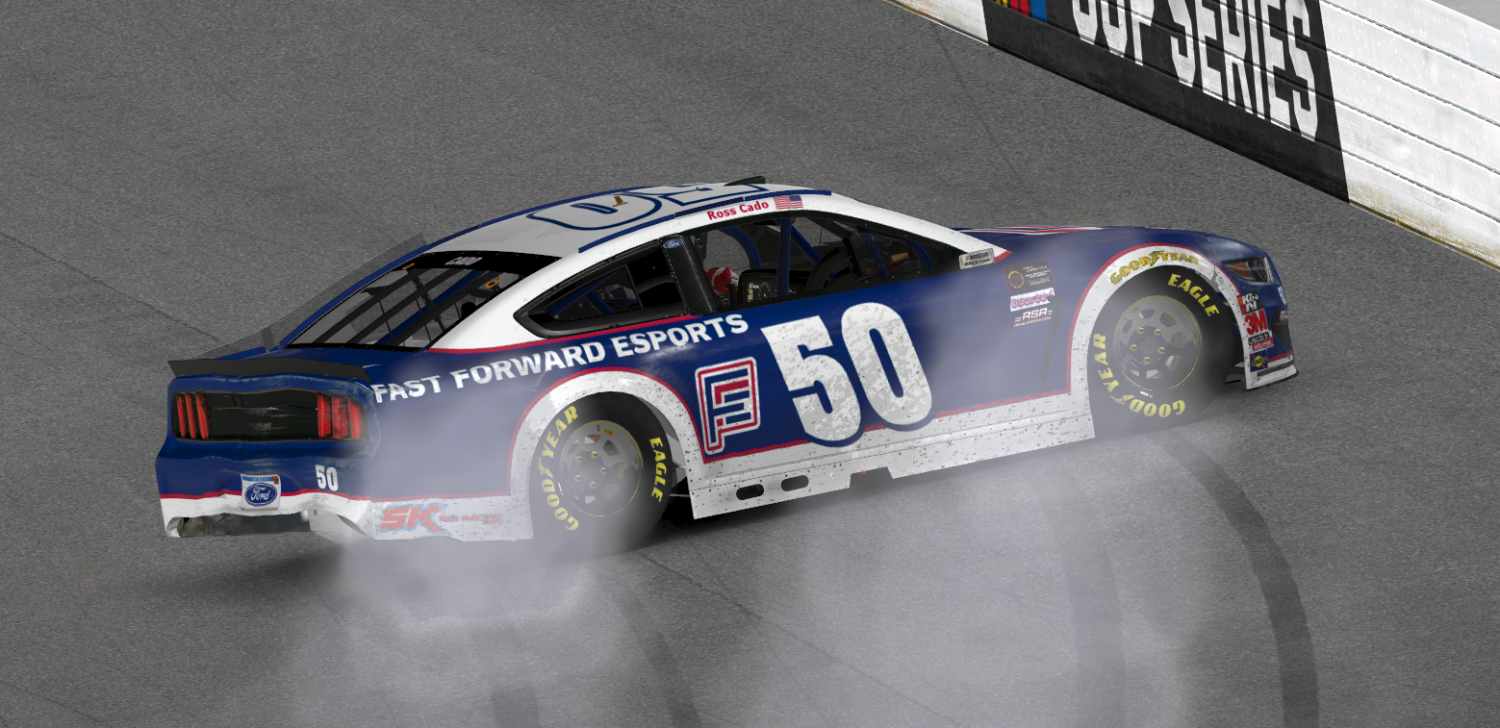 Once the green flag flew, I was caught up in another incident when two cars suddenly slowed in front of me on the frontstretch. I ended up spinning and slowed to a stop in the middle of the racetrack, but no yellow flag was thrown by the iRacing server! Soon, the leaders came back around, but I was able to restart the race car and get moving before an abject disaster occurred, albeit losing another lap in the process.

The race had many more yellow flags, which eventually allowed me to finally get back on the lead lap–once with a wave around, and another with being awarded the free pass. I finished the remainder of the race on the same tires on which I had spun the latest time.

In the end, with the mishaps, cautions, persistence, and sheer chance, I wound up in 17th place at the unfurling of the checkered flag.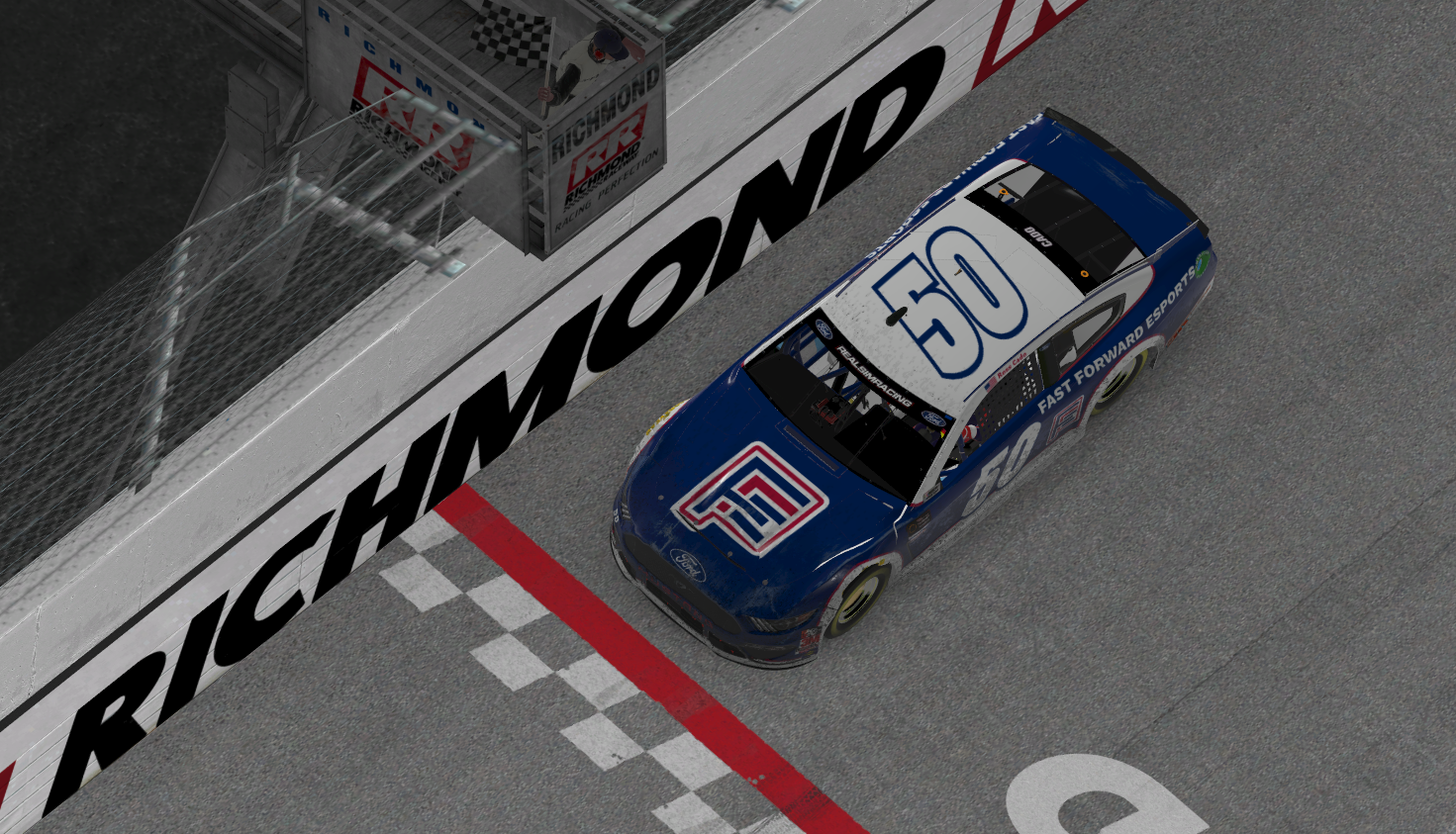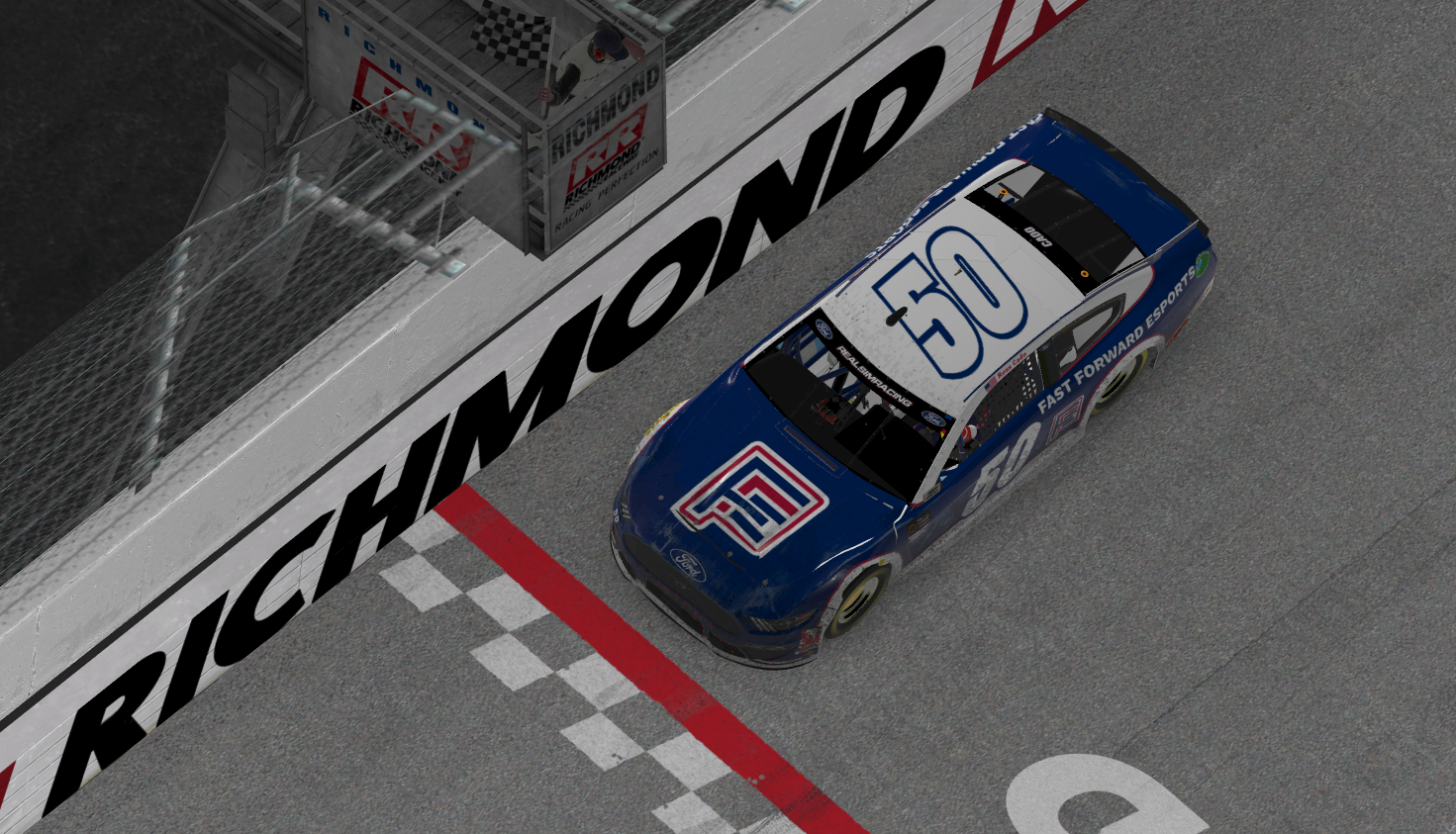 With this less than desirable race in the books, I decided the next day to try my hand at RSR Outlaw Truck Series…
_________________________________________________________________
After deciding basically on a whim to race in the Real Sim Racing Outlaw Truck Series race at Texas Motor Speedway on Tuesday, I ended up qualifying 3rd and was in contention for the win throughout the race. Half fuel loads and tire limits made for an exciting race in terms of strategy, and the race went green all the way.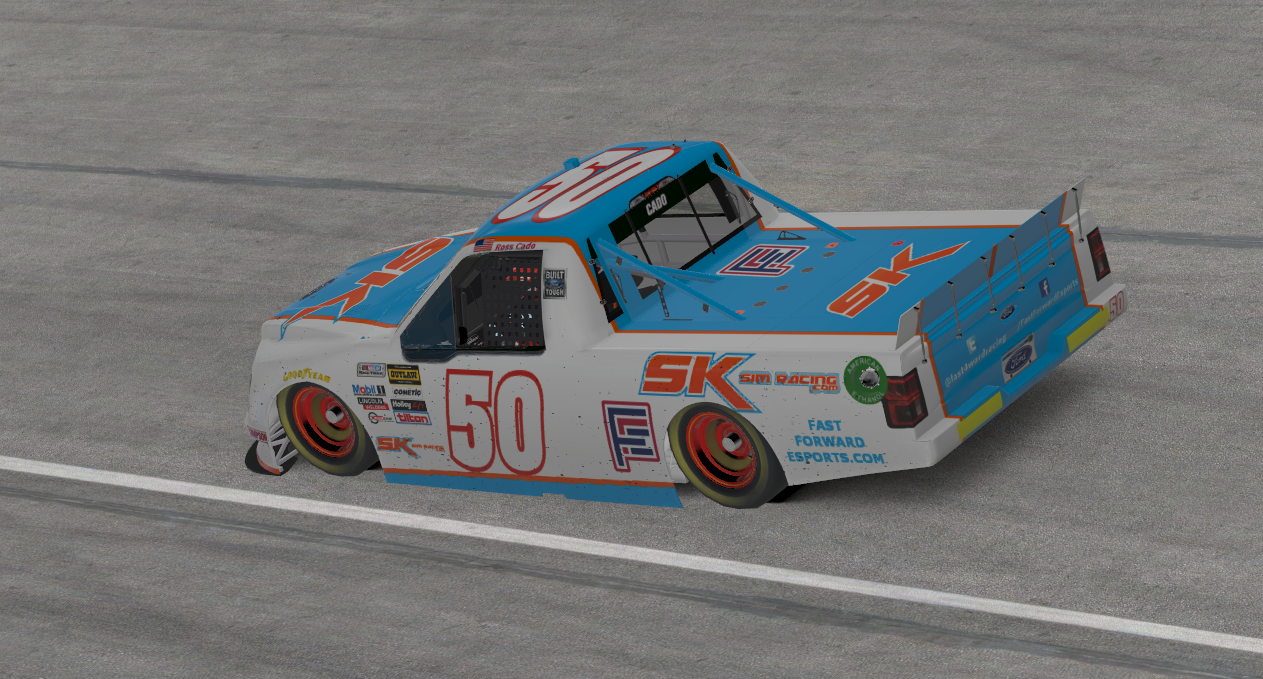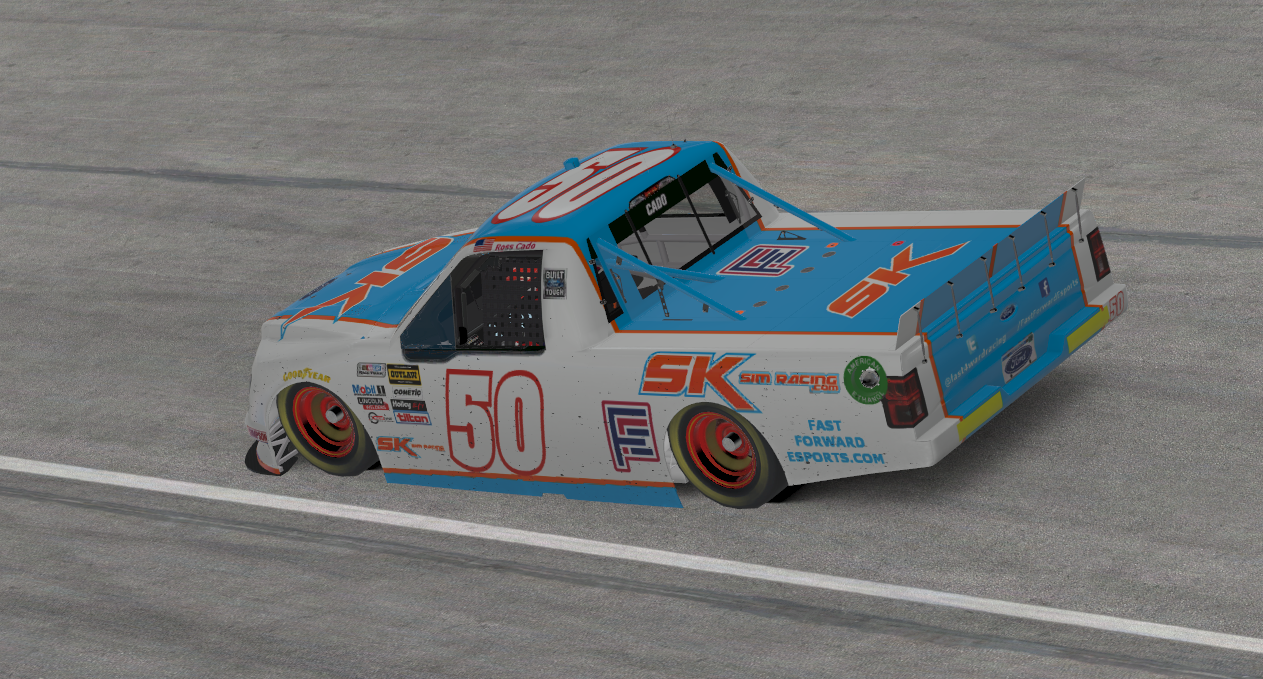 For this 80-lap race, we were given two extra sets of tires, but only enough fuel to complete just over twenty laps at a time. This meant that strategy was in the works to conserve one of the three sets of tires for two fuel runs. I chose to run hard the first run, then change all four tires and keep those on for two fuel runs. This first pit stop could have been my undoing, because I almost got a speeding penalty on pit road. Remarkably, I was not penalized and continued onward unimpeded. After "double stinting" the tires in the middle portion of the race, I changed four tires again with around twenty laps remaining. This proved to be the winning strategy, as the #98 truck and #94 truck were eventually getting smaller in my rear view mirror in the closing laps.

After this slew of green flag pit stops and battles with other drivers, I was able to best all of my competitors and eek out the win, leading 21 laps and becoming the sixth different winner of the series in the six races so far this season. And this was on my first start in this series in years!
Something I have become accustomed to is the "feast or famine" nature of sim racing. At times, frustration levels spike and discouragement is pervasive. It seems as though I get angrier with myself over the miscues more often than I pat myself on the back for the triumphs. Negative experiences seem to have more weight to people, and I am no exception. This is why reflection and gratitude are so crucial in daily life, to include hobbies like iRacing.

Getting crashed is part of racing, and mistakes are integral to the human experience. These failures aid me in appreciating the victories. Knowing that despite the incident with the #31 at Darlington, I was able to gather it up and rally back to a respectable position helped me to put the situation into a better framework. The same applied to the Richmond race, where I refused to give up. Then, on Tuesday, winning that race just felt splendid. The enjoyment of triumph is infectious, and I hope to experience that soon in American SimRacing League.

My gratitude to SK Sim Racing has not wavered. It was my joy to bring SK Sim Racing to victory lane. This is a cherished partnership.